Here we go again…. that feeling that comes to me every morning the minute I wake up. It's feels heavy and I know how easy it would be to get tangled up in its clutches, but I can't emotionally afford to do that right now. I don't have anyone under my roof to tell me to "snap out of it"….and so here we go again, and again.
Keeping an eye out for the positives continues to be a silver lining for me. Here are my finds from the past few days, with some random thoughts mingled in.
I've found freedom in not having plans yet feel trapped if I don't come up with some sort of plans or loose structure on a daily basis, which pretty much look the same, Sunday through Sunday.
Walking, now twice a day
Writing and reading
Painting (my paints weren't able to make the move so I'm improvising with water colors and am kind of teaching myself on that front)
Spanish – new vocabulary…. pandemic, contagious, global economy, chaos, crisis…and so on.
Teaching myself guitar with an app (I've not done that since high school, less the app, of course).
Pilates on the mat 5 days a week via zoom
Communication with friends and family via phone, FaceTime or zoom
and finally, Netflix or Hulu to round out the day.
Oh and of course feeding myself, which hasn't exactly kept up with my earlier visions of pots simmering on the stove while I wait for bread dough to rise. I need to work on that one.
I can't help but think back to a conversation I had with my sister while in my car in a very packed grocery store parking lot, ironically, on Friday the 13th of March. We were talking about stocking up on items with 2 weeks at home in mind (I've not been inside a public place since, and that was the day I started my count). It still felt a bit reactionary to me, even though half of Boulder appeared to be on board as per the crowded state of the grocery store, Target and liquor store parking lots. I also remember talking about the "whole hand sanitizer situation" (noted in my first coronavirus post), and felt that maybe people were getting ahead of themselves on that one yet curious and nervous at the same time as to why I wasn't of the same mindset. Had I missed something? Was it possible that these were the same people who run to the grocery store to buy massive amounts of food because of an impending snow storm forecast? That's what I was thinking with all the "panic buying" but still, I felt like I had missed something as I didn't seem to have the same sense of urgency that every one else had. I followed suit though and bought dried beans in bulk, rice, pasta, jars of marinara sauce, cans of tomatoes and broth, filling in with a few other more interesting items such as pancake mix, chocolate, crackers, pretzels and other salty snacks.. I would totally rethink that now if I was doing the shopping today as I've not used any of the beans or rice but the pasta and jars of marinara are long gone along with anything that would be housed in the "snack aisle." I've been blessed with a daughter- in-law and a daughter who have been so kind to shop for me every week or 10 days from a list I provide. Giving someone else a list to do your shopping has shown me how much I buy on impulse, ie the stuff that goes first. I'm eating much healthier as I'm not the one walking past the candy, the potato chips or the section of the dairy aisle where the onion dip lives – all spots where I have a history of weak moments. Cooking from the pantry and not from a recipe, which usually involves too many trips to the store, has become a creative challenge for me. I don't seem to have that natural ability to put things together in an unexpected way or any way that doesn't have the look of chili, pasta or stir fry on rice. Those with the talent are killing it right now. Me, not so much, but I'm not hungry so there's that positive.
Back to food. Banana bread. It's still a bit of a problem over here (portion control), but fortunately or not fortunately, I have no bananas nor did I put any on my list for Brooke last week, simply because I can't walk enough to counter the problem I seem to have with the thickness of a slice and the amount of butter that gets slathered on the bric-sized wedge. Brooke reminded me of a story regarding banana bread when she dropped off my groceries as we stood on opposite sides of my small yard and talked. She said one of the first times she met me, she and my son, Thomas, had come over and I had just taken 2 loaves of freshly baked banana bread out of the oven. Thomas told her I baked a lot of banana bread back when they were kids and it was a go to for me in the kitchen. This was back in the day when I was buying a lot of bananas and had kids that wouldn't eat them after the slightest bit of ripening began, so I'd freeze them to use later for bread, leaving me with a continual reserve in the freezer. She said I opened the microwave (likely to heat my coffee) and there sat the thawed bananas that were intended for the bread, the bread that sat baked and cooling on my countertop. The banana-less banana bread, or more accurately, the dry cake. To that I had to add that I've found the bananas, more than once, in the microwave midway though the loaves bake time and yes, I pulled them out and mashed them into the partially cooked bread while still in the oven . I'm not a good baker. I'm not even a mediocre baker, but I do love banana bread and I do pretty well with it, provided I remember to put the bananas in. I'm blaming my struggles with portion control on living alone and not having to share it with 4 other people. I'm blaming all my portion control on that.
People are nesting. We have the time and we're spending a lot more time in our nests. During my walks I see picket fences getting a fresh coat of white paint, driveways and garages being swept out, windows being washed,, exterior walls of houses being painted and flower beds being cleaned out and weeded to make way for spring blooms. The neighborhoods look like they are all waiting for company. I'm sure if I could get a whiff of inside smells, I'd smell bread baking. Brooke said that both the flours…" flour" and "flowers" – were in short supply at the store. People are taking care of themselves in whatever manner possible. I'm guessing the bananas were also running low. Not all of us can make bread from scratch, unless it's banana bread, which I see as the opportunity for all of us non-bakers to get in on the nurturing love of bread baking just like the more seasoned bakers who know their way around yeast packets and rising dough without question.
I'm so touched by the way people are connecting and saw a story on the news about a grade school teacher coming to the house of a student who was struggling with something in her online math class. There was a photo of the teacher standing outside of the glass front door of his student's house using a piece of poster board and a marker to explain the problem. This girl may well start to love math (or at least not be afraid of it) simply because of this kind and generous act. .
Come as you are. Although I've always gravitated towards that style of dress, I'm getting very comfortable with it now. Maybe more comfortable than I should be. While walking late yesterday afternoon, I glanced down to notice a salsa stain on the front of my shirt near the spot where your chin would land if, for example, you were leaning into a plate of nachos. That was a paired up with a pair of animal print leggings with a hot glue incident on the front of them from when I was attaching arms to small wooden angels during week one. To top off the look, I added a bulky, stretched out of shape, black sweater that had seen better days. It wasn't a good look. Seconds after making that observation, I passed one of Emery's friends and her husband out walking – both in shorts and short-sleeved shirts looking very fresh and bright. I'm wearing this, I thought? Really? And what's with the sweater? It's warm out. Oh yeah, it is doing its job with the salsa stain cover up. I won't even mention my hair, which hasn't seen a trim in 4 months and growing. Literally. Even worse, (or better??), I wasn't devastated. I wasn't anything. Roll with it and come as you are. I'm fine. You're fine. We're all fine. And slippers are fine too.
I was texting a dear friend of mine from Kansas City this morning and she told me she had been walking every day with another good friend of mine in Kansas City. I had to wonder if that was OK, given the social distancing and all but she was quick to explain that they are walking on OPPOSITE sides of the street, shouting to each other when they have something to say. Is it possible to smile and shed a tear at the same time? Yes, it most definitely is possible. Keep walking girls. I'm right there with you, 650 miles to your west.
I had a dream last night that I was flying and lost my vision mid-flight and had to figure out when to begin my descent to land. Amazingly, and with great relief, I made a perfect landing and once the wheels hit the runway, my vision returned. Then it happened again, same plane, same loss of sight (seriously… I question my judgement question my in getting back into the same plane, but that's a dream for you..) But this time it felt different as I was terrified, which makes sense because seriously, what could be scarier than landing a plane without sight? I felt like I had a front row seat to my fate, all in very slow motion. I didn't make it to the airport and crashed in a field then immediately woke up. Flying blind. Literally. My dreams are painting the picture that I don't want to look at during my waking hours.

The hard thing about wearing a mask, which most people in my neighborhood are doing, is that it's hot and cumbersome but worse than that, I can no longer see the smiles on the faces I pass nor can they see mine. Waves are now our replacement to the smile. The only time I've ever pulled up my buff kerchief to cover my nose and mouth as I'm doing now, was to avoid swarms of black flies while hiking in the Adirondacks with my sister, Susan. But wear it I will, cumbersome as it may be. When we are given the "it's OK to come out now and leave your masks behind," we will all be sporting coronavirus tans – the same as a ski tan, only upside down.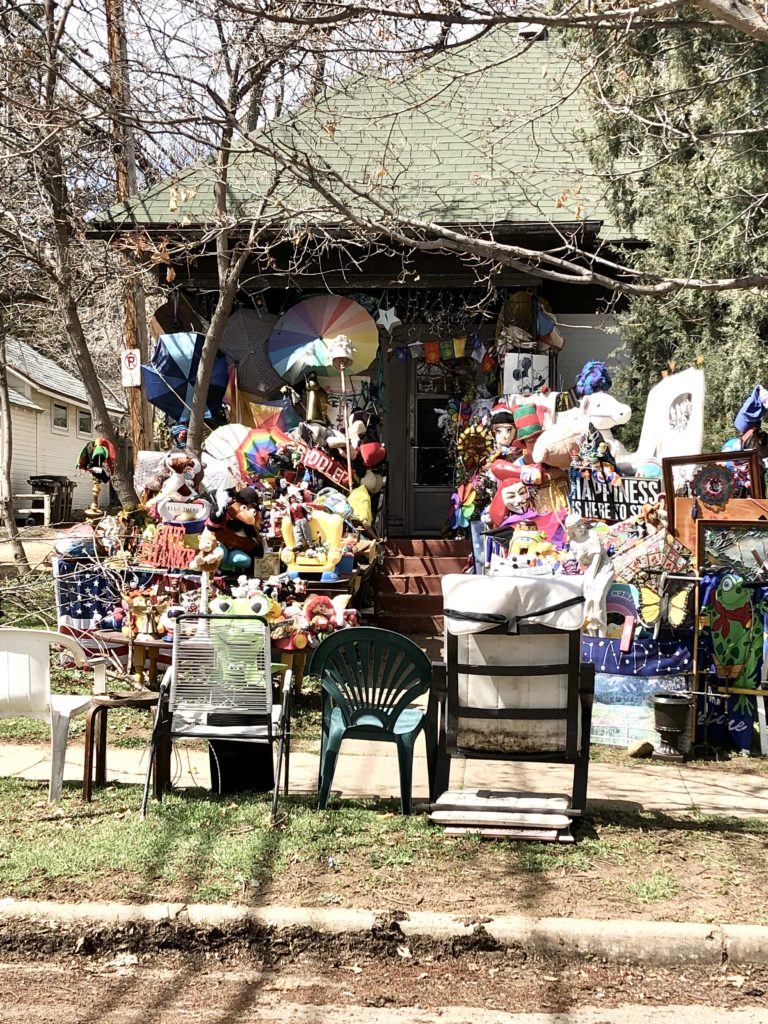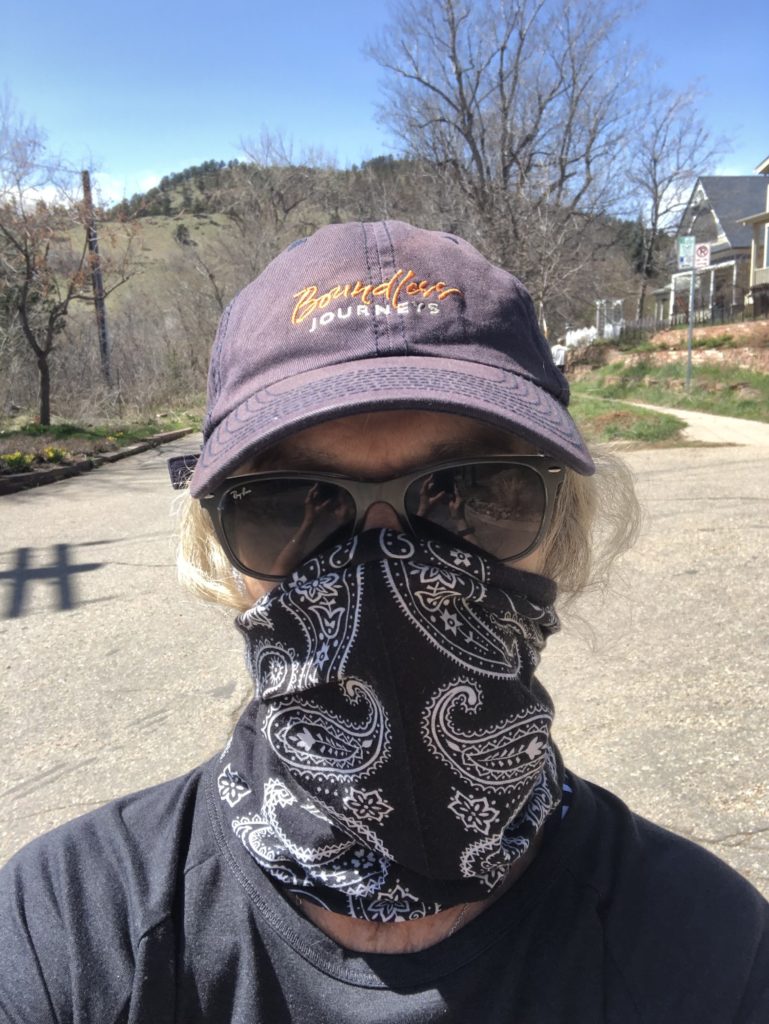 I'm mourning the death of Bill Withers and would play "Lean on Me" on loop all day if it didn't make me so sad. Between his soul stirring music and the interviews with medical staff, I'm getting in some good cries on a near daily basis. With Bill Withers in the background, I made a kale and roasted fingerling potato salad with a lemon tahini dressing. Maybe I'm creative after all in the kitchen and I just wasn't listening to the right music. Rest In Peace, Bill Withers. Your music feels more timely now than ever.
And finally, to all of my friends who are reading this while sitting alone in your house, I hear you. Boy, do I ever hear you and as much as I keep telling everyone, "Oh I'm fine….," because, really, I am, it's not easy to go without human contact closer than at least 6 feet away for 27 days. I've learned a lot about myself these past 27 days. I know that I need to create, in one form or another, and get outside every single day. It keeps me out of the shadows, that can get pretty long these days. I've also discovered that I'm a good roommate. I pick up after myself, cook nourishing meals (sliding scale…) and am kind of fun as I enjoy a good solo dance party on a regular basis. If this sounds like I'm posting an ad for a roommate, you need not apply, as I'm a good roommate but only for myself right now. I miss people. I miss them a lot. I suppose that's why the small gesture of eye contact and a wave have meant so very much to me lately. Still, when I do the math, the happy and content days are winning. Writing this blog helps tremendously.
Instead of "I'm stuck at home," I like this better…..
"I'm safe at home."
Stay safe and continue showing each other love in any way possible. It's amazing, humbling, inspiring and so very comforting to see. And we all need it. More than ever now.