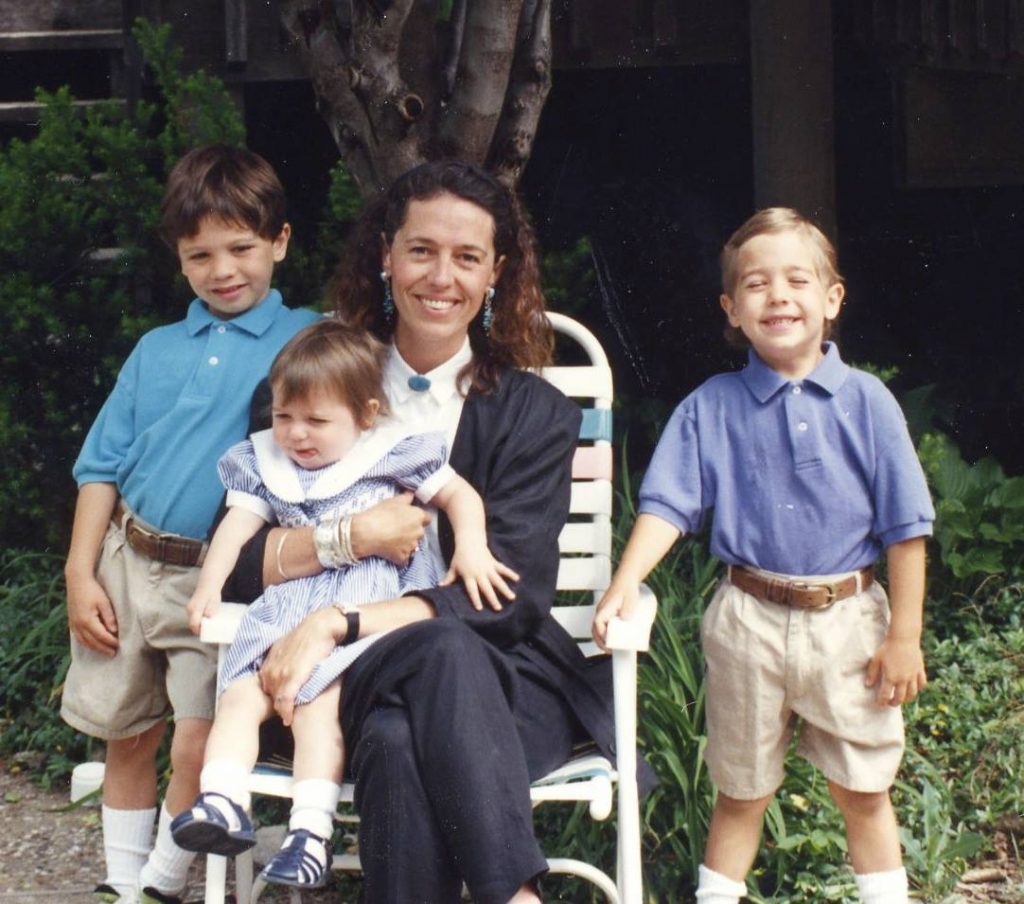 I've always loved writing my Mother's Day post more than any other as they seem to write themselves – the words flow effortlessly because it is a subject that I know well and hold close to my heart. This year is no different. Actually, it feels good to write about something else besides the coronavirus (59 days, by the way, which I've already rounded up to 2 months), but enough of that. Onto motherhood…
I was blessed with the title of Mom on April 30, 1986, when my son, Thomas, entered the world, followed by Grant in 1987 and rounding off our newly formed family of 5 with Emery in 1990. I look back on those early days of mothering, filled with exhaustion, adoration, frustration, devotion and lots of other words that end in "tion," with such tenderness and nostalgia, but day to day, while in the throes of it, I'm not sure I would have used those words. The edges of life's memories really do soften over time and although I was sleep-deprived and frustrated with babies who wouldn't stop crying, while ignoring my own needs, those early baby days are some of my fondest, and as cliche as it is, the time really did fly by – days were long but the years were fast. I never thought I'd be that mom who tells her 'new to their parenting role' children, "It feels like only yesterday that YOU were that age and I was trying to get YOU to sleep, stop crying, eat, smile for the camera and so on." But lo and behold, I am that mom. I'm also that mom who continues to tell any mom who is bemoaning the fact that their babies are growing up too quickly that EVERY age was my favorite ( small lie, middle school excluded…) and that includes the age they are today. Those silly, joyful, stubborn, curious beings are still there whether at 2 years or 32 years and getting the occasional glimpses or the gestures that take me back are my constant reminder of that. The gift continues even with my very young grandchildren, (ages 3, 1 and 6 months), when I see their parents in their facial expressions, gestures and sense of humor. It's only now, that my children are grown and flew the nest over a decade ago, that I feel like I've gotten the distance necessary to see the 3 distinct phases that my journey into motherhood has taken me, each one, naturally, my favorite.
Phase One was infancy to leaving home for college – the exhausting and memorable years that filled photo albums and journals. It was my life and who I became and I'm darn proud of those years. I'm touched with my kid's memories of the small gestures I made for reasons that varied from total enthusiasm to it will help us (me) get through the day. The fact that they remember the small things mean a whole lot more to me than the vacations, the Christmas's or the gestures far grander than laying on a blanket in the front yard with our eyes to the sky while we looked for animals in the clouds, or midnight runs to the store for snacks in slippers and "loungewear" because we were watching World Cup soccer in a European time zone or having a campout in a closet that was far too small for much more than tiny clothes. Those years, while forming the adults my children are today, also played a very big role in my own self-development and my journey back to my own inner child – the creative, often dirty, probably too loud, happy little girl who tested boundaries and pushed edges. Because those years became such a part of who I am today, Phase Two, the empty nest phase, was a difficult one for me. That, coupled with divorce and finding my way through a newly emptied house on my own, was a difficult time for me. As much as I thought I was ready for each one of the kids exits to college, I wasn't. While unloading over-filled cars, to undersized dorm rooms, always on the hottest day of the year, I held back tears as I watched my kids feather their new nests while leaving their old ones behind. But it turned out OK because the kids eventually did return and slept in their old beds and stayed out too late and left dirty dishes in the sink and trails of clothes on the floor and I still worried and nagged and asked too many questions and felt deliriously happy in the chaos of their brief returns and my return to "normal".
What I didn't realize at my time of empty nests and roots and wings metaphors was that there would be another phase – Phase Three, when my basement would be cleared of all my kid's boxes and belongings because this time, I was the one moving. No longer would the kids be coming back to their own rooms, still holding glimpses of themselves on their walls, to stay during holidays or the occasional just because weekends. This time, the baby birds weren't the only ones to leave the nest but the mama was also leaving. Not only did our nest change, but our roles have changed as well. The same children who used to hear the words so often that I think scar tissue formed in their ears:
"When will you be home? Who are you going with? Who's driving? Did you finish your homework/project/room cleaning/assignment etc.? How are you going to get there? Did you remember your books/soccer gear/ ballet shoes/homework/project??? And no, for the 100th time, you can't…"
Are the same kids who are now asking,
"Are you OK, Mom? Have you met your neighbors? Need me to tune up your bike, mow your lawn, sort out your blog website, get you groceries? Help you move that (insert anything heavy here…)?"
Granted, the quarantine has strengthened this concern and offers of helping out, but it didn't create them as they were there long before I was in my solo-quarantine.
Less than a week into my quarantine, I went to bed, thinking all was OK and was quietly "congratulating" myself on making it through another day when out of nowhere, I began to sob – a chest heaving kind of sob. It didn't matter how many times I told myself that it was going to be OK and that I was going to be OK, I clearly wasn't. I was scared. I was alone. Without hesitation, I picked up my phone and called my son, Grant, whose time zone is an hour earlier than mine and I knew he'd still be up. My son became the voice of reason, insuring me that everything was going to be fine and I was going to be fine and just think, when we are on the other side of this, the stories we will all be able to tell of living through a pandemic.
"You'll be ok, Mom. I love you, Mom."
We talked for about an hour, he talking me off the quarantine wall while I listened to the sage advice and reassurance from the son who gave me so many sleepless nights and whose behavior my own parents had to tell me was strangely familiar as they had seen it before with me. That son. That same son that this parent was now calling for reassurance and simply because I was afraid.
"You'll be OK, Mom."
"Thank you, Grant."
About a month after that call, my son, Thomas, texted that he was going to ride his bike over and would I like to go bike riding with him, keeping masks on and distancing, of course. And so we did, but only after he gave my bike a front to back tune up, something I had been quite remiss in keeping up with. After wandering around empty streets, me showing him some of my walking discoveries while he gave me riding tips (it had been a while since I had ridden on city streets, even though they were empty…), we sat in the yard and talked – about the quarantine, his daughter, Lilah, Boulder, life. That time together was exactly what I needed and I'm sure Thomas knew that. There's an unspoken communication that parents develop with their kids which no doubt is where the saying "eyes in the back of our heads" originated. You know when your child is not telling you something or is lying or stretching a truth that they are "fine" when you know they aren't, simply because you are the mom and moms know. I've got to think that the kids of those moms develop the same kind of intuition over time. Thomas knew I was having a rough few days even though I had said nothing to him and did what any caring child would do and invited me to go bike riding. After he left, I stayed outside, sat on my front porch and absorbed it all. Although we can't hug, that time spent pedaling around the neighborhood was just about as close to a hug as I could get. This experience of quarantining is teaching me that there are many ways to hug, without physically touching, and for that, I'm continually grateful.
And finally, last week was my grandson, Arlo's, 3rd birthday and although I hadn't planned on seeing the kids that day due to coronavirus, Emery called me a few days before and insisted I come over. I had developed a pretty severe rash on my arms that was only getting worse and Emery thought that breaking social distancing rules at this point and going in for the hugs was more important for my health than staying away. I followed her suggestions and spent a few hours celebrating Arlo's 3rd birthday with lots of hugs and family time. And the rash? The itching subsided that night and now, a week later, after having it for almost 3 weeks, it's completely gone. Emery's maternal nature and concern for me has come through with supplements and teas for my immune system, runs to the store, drive by's with Arlo in the back seat, simply so I can get a quick "in person" look and FaceTimes almost daily to connect. A few days into the quarantine, when we were all thinking it would be 2 weeks and weren't really sure of what was next, a package of goodies from a small local store was delivered to me from Emery. She knew. She's developed the maternal eyes in the back of her head and I'm the lucky recipient. We are all taking care of each other in our words and our gestures and seem to know intuitively when to jump in and offer a virtual shoulder. Hugging from a distance.
Not only did the kid's belongings leave the basement and the mama fly the nest in Phase Three, but the children become the parents. I have no intention of surrendering my parental role (is that even possible???), but have certainly loosened my grip and am happy to let my kids step in and offer to help or a listening ear. Those gestures of love mean as much to me as the stack of pop tarts and glass of orange juice, brought to me on a tray, with kids arguing about who got to hold it, while serving me "breakfast" in bed.
Happy Mother's Day to all the moms out there. Whether a late night reassurance call, an impromptu bike ride, a morning of hugs or stacks of pop tarts on a plate, they all say the same thing…
" I love you, Mom."
" I love you, too."