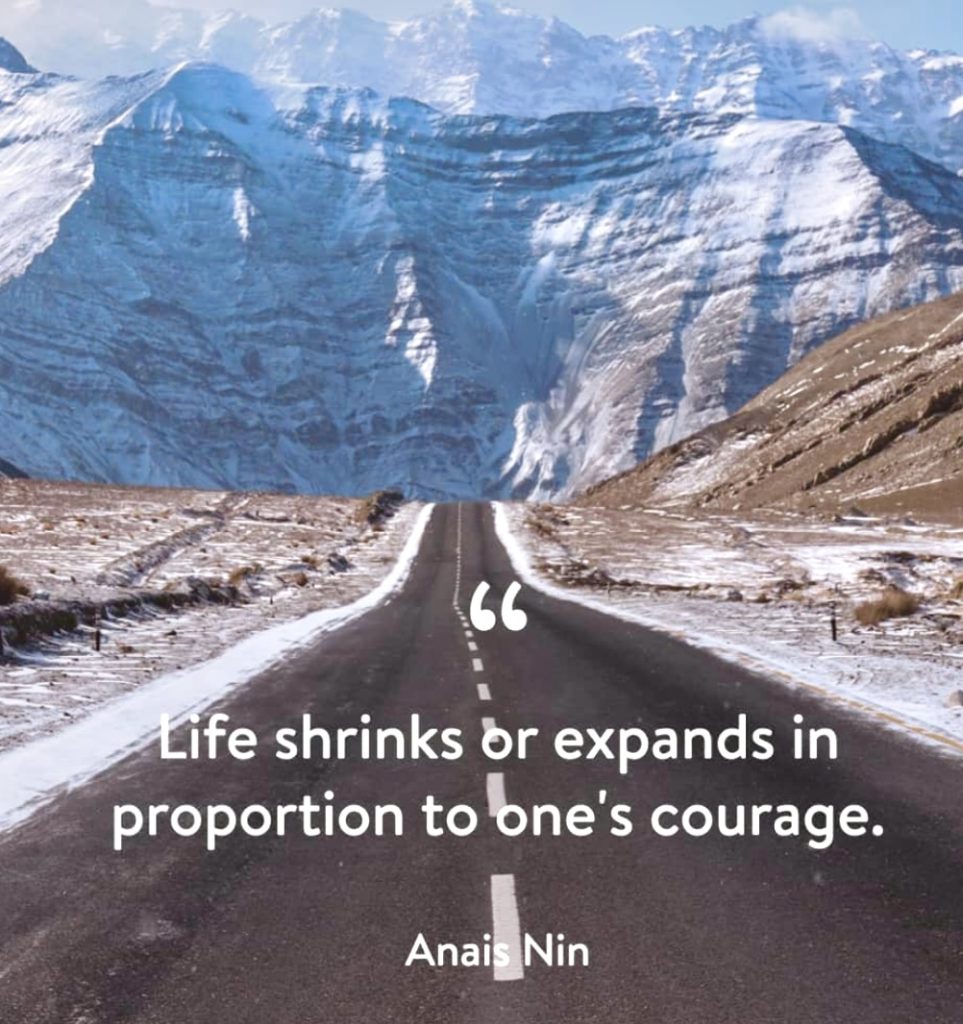 I've had plenty of time to think during the past week — in the pre-op room waiting for surgery, in the recovery room waiting for a hospital bed, in the hospital bed waiting to go home and now, on my make-shift couch bed waiting for the day I can tackle the 18 steps up to my bedroom. It's been a long, painful, insightful and productive journey that has included far more than my knee getting replaced, although it's the knee that's getting the most attention because it's the loudest. In the trauma of my bandaged and swollen leg that is a variety of colors, the dominant being navy blue, an unexpected lens has formed that has allowed me to witness something that extends far beyond the physical. I've been given the honor, and yes, I say honor even though I'm still counting the hours until the next pain pill, of observing parts of my physical journey that don't hurt when I walk, or stand, or bend my leg. I'm a week and two days out, but already am seeing the unexpected depth of the gift I've been given. It didn't come without pain or tears, but it's here and I'm accepting it. It's me standing at the top of a difficult ski run, afraid to go down. Walking into a party where everyone is coupled up but me. Traveling alone to a developing country to volunteer, not knowing what I'll be met with on the other side. It's having to ask for help. It's feeling vulnerable and afraid. It's fear. It's pain. It's a fear of pain. And it's come in unexpected doses at times I didn't expect. It is patience, humility, surrender, compromise and the biggest of all, love. They are all gifts — the new knee and the pain that came with it, included.
Patience.
I'm learning to be patient with myself, during one of the most difficult situations I've ever encountered. There are physical movements that I didn't give a thought to a week ago that I cannot do today, such as lift my leg while laying down. Even a quarter of an inch is too much. As I laid on the couch trying to follow my physical therapists directions without success, I started to cry. The therapist asked me if the pain was too much and I told her no, it wasn't the pain. I just couldn't do what she was asking. This, from the girl who had some of the highest kicks in drill team and up until last week, could still do the splits on both sides with ease. And now I couldn't lift my leg even a millimeter off the couch. She touched my arm gently, told me to take a few breaths and relax. I did as she asked, while tears streamed down my cheeks. She told me that even though my leg hadn't moved, the muscles had engaged and for now, one week post-op, that was enough. There was a lot of letting go that went on while I stared at the ceiling and cried. It was something I never would have done a week ago. Crying, that is. In front of someone I had only met a few minutes earlier. I'm good at holding in emotions that may make others uncomfortable, but not now. I'm learning that part of self care is listening to what my body needs and if that means to stop holding onto the lump in my throat and let the tears flow, then that is exactly what I'll do.
Humility.
Two days ago, an occupational therapist sat in my living room in a chair that faced my couch bed with my large coffee table in-between us. As she was talking about the finer points of self care, I noticed that right next to the patient care folder she had sat down, were the underwear I had worn the previous day, or maybe the day before. Without apologies or explanations or attempts at reaching for the small navy and white striped heap, I redirected my attention to what she was saying about self care, which was about letting go of the need for perfection and holding onto what is, even if it happens to be a pair of yesterday's underwear on the coffee table. Self care isn't just about feeding myself good, nutritious food and getting rest and exercise. It's also about finding grace in the spot where I have landed, no apologies necessary.
Surrender.
One thing about anesthesia that is difficult is that you can try as hard as you want to recall what happened while you were under, but it is impossible. The part of your brain that is in charge of remembering is temporarily shut down with the anesthesia (my boiled down, non-scientific version from what I've heard and read), and hard as you try, the pieces to the puzzle will not fit, because you will never have enough of them to form a clear picture. I know the urge to recall the faces, the conversations and the order of things will eventually fade, but for now, I'm still trying to establish my timeline, missing pieces and all. What I do remember was being seated at the edge of a gurney and bending over at the waist in a cold, very bright room while an attractive doctor put the needle in my spine for the spinal block. I remember seeing the unusually large gold band on his left hand and wondered if he should be wearing jewelry while putting needles in people's backs. The next thing I heard was my doctor telling me to open my eyes and that all had gone well. He said I'd be taken to the recovery room where they'd monitor my vital signs until I could be taken to a hospital room, where I'd be reunited with my daughter and sisters. I did better this time under anesthesia than I had 18 years earlier before a procedure when I spoke out during that brief moment of feeling warm and cushy before the lights went out. I invited my doctor to my 50th birthday party and told him he was handsome (I was newly divorced). I only know this because a nurse told me, which made me laugh and want to hide at the same time. I don't remember inviting my orthopedic surgeon to a party or telling him he's handsome, although it would not have been a lie. Or at least as far as I know, I didn't. I do remember talking up the Oregon Coast on my way to recovery, though, which looking back feels much safer than birthday party invitations or blatant flirting under anesthesia. After being taken into the recovery room, I remember crying, not because of pain but instead it was an emotional release. The surrender felt both freeing and comforting. Holding on is hard. Letting go felt like floating and floating feels like the best option when everything else is hard.
Self sufficiency.
My sisters were with me for the first week and my daughter has checked in with me at least twice a day since they left. Although I had help and many offers of help, there was an element of self sufficiency that I needed and craved. My great idea to bring hot food from the microwave to the table using my desk chair on wheels as both a transport device and a walker did not impress my occupational therapist. Instead, I got a strong "ABSOLUTELY NOT" and a solution that involved closable containers and my backpack. Mealtime has me carrying my food in a backpack while my walker takes me from one part of the kitchen to the other. I've inserted the tiniest bit of adventure into my meal times. Coffee and any other beverage are also carried in the pack in mason jars with lids. My daughter, Emery, is often here at mealtime, but it's nice to know I can accomplish this task solo if need be.
I've been going through a lot of ice for the cooling/compression sleeve that I wear on my leg whenever I'm resting or sleeping. A couple of my friends brought over a Yeti cooler that my sisters filled with bags of ice along with a bucket that I can take the water out of the cooling device and replace it with the ice, a few times a day. Finding ice the day after a winning college football team's home game (CU), I have learned is almost impossible and once found, quantities you can buy are limited to two bags, regardless if it's to ice down a keg or a new knee. I hope it's an away game next weekend. On top of the cooler I have a pair of scissors and a hammer. Everything I need. Again, I have help when I need it but self sufficiency feels good.
Love.
I think we remember what we need to remember post surgery — the stuff that matters. While the nurse put my pre-surgery IV in, I remember looking to the side of the room and seeing my two sisters and my daughter seated next to each other… my line up of love. I was scared and the trio of women just feet away could sense that because I can't hide anything from them. They know me as well as I know myself. Emery said I'd be OK, or something to that effect, but it was what she said to me after those words that stuck and I held onto as they rolled me into surgery.
"You are one of the strongest people I know."
When I hit the wall with the pain or felt afraid in the hospital room in the middle of the night, those words — you are one of the strongest people I know, echoed in my mind giving me comfort. My sister's embraces before they left the prep room then my daughter's embrace and good bye are the parts of the story I remember —the parts I want to hold on to with every fiber of my being because they are the parts that matter—that are necessary.
I remember snippets. Snippets that make me cry. Snippets that make me laugh. Emery's hug before they wheeled me off for surgery, my sisters setting their alarms to check on me every 3 hours the first few nights after I got home and touching my cheek with their hand before leaving the room. I was asleep, but awake enough to feel their presence. Drugs are a strange thing. Robin told the occupational therapist yesterday how hard the first few nights were and she and Susan would get me tucked into my couch bed and would give me my meds then say their goodnights. Robin said when she looked back the first night she saw tears streaming down my cheeks. All those emotions, finding their way through my physical body, mingling in with my emotional body and landing on my cheeks. I felt so cared for, so loved. How could I not sob?
Susan, found the quilt my Grandma made me when I was a child with many of the blocks made from leftover fabric from dresses she made for either me or my sisters when we were young. It's well-loved and frayed in spots, but the powers of my Grandma's love still remain in its fibers and having it lay across my body when I sleep feels like a hug. A lot of the pain I'm feeling now is similar, but stronger, to the leg aches of growing pains I experienced as a child. For some reason, I remember having them often while staying at my Grandma and Papa's house. Thinking about Grandma tucking me into a small bed, likely shared with a sister, while rubbing my aching legs is a thread of connection I savor. These are the tiny moments that matter and are remembered.
During the occupational therapist's first visit, the one with my underwear on the coffee table, Emery happened to be at my house when she arrived. She stood behind the couch where I was sitting with my legs stretched out in front of me and began to gently braid my hair while we both listened to the therapist's words regarding self care. It took me a few moments before I realized what she was doing, taking me back to the days I would French braid her hair but never with the same success she had when she did it herself. She was too young to wash her hair and hated combing it, but she could French braid it like a pro. I was often complimented on my braiding skills, but had to redirect the compliments to my young daughter who was the one with the mad hair skills. Not me. I thought about that moment later that evening while working my way through pain. Emery braided my hair.
Love can be straightforward, quiet, soft, beautiful and unexpected and sometimes it can unwashed hair lovingly arranged into a braid.