A month. 28 to 31 days. 1/12 of a year. A full billing cycle. A pay cycle. Mentally and physically I prepared for a long two weeks at home and here we are. So, here's what I've got after living in isolation for a month with no trips outside of my house for anything except walking.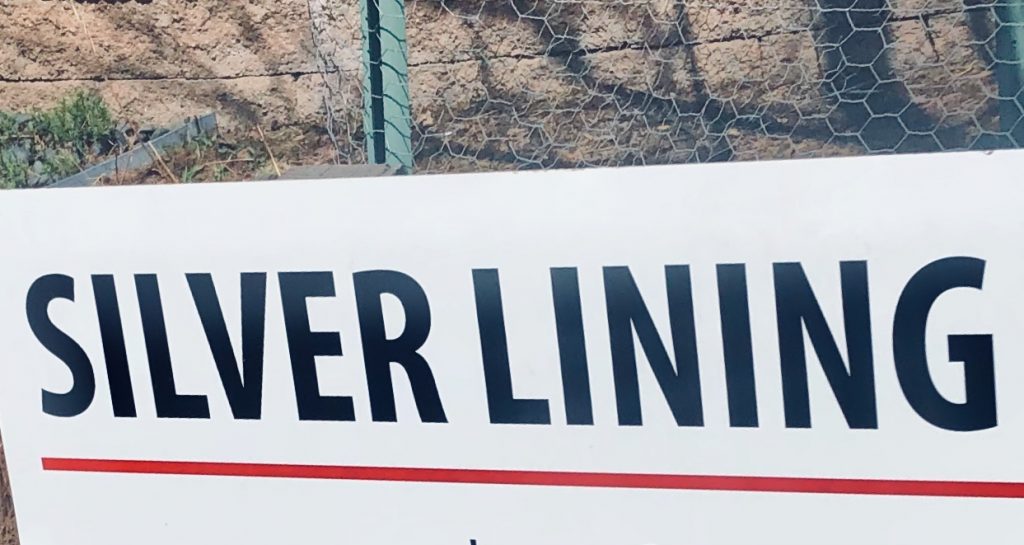 Maybe it was the full moon? Maybe it was an astrological shift? Maybe it was a change in the barometric pressure? Maybe it was that I've not had "real" human contact in 30 days, but a few days ago I had my hardest day yet. Brooke, Thomas and my sweet one year-old, granddaughter, Lilah, came by so that Brooke could give me the mask she made for me. As with the groceries, we made the awkward delivery/handoff….Brooke sets the goods down and steps back then I make the retrieval, always with an eye on staying safe, for all the "just in cases" we're taking into consideration now. We then had a nice chat, once she was back in the car with my son and granddaughter, all of us keeping our distance. As awkward as it is, moments like these have become so important to me. She told me she made my mask out of material that I had brought back for her from Ghana exactly 2 years ago. She had set it aside, waiting for an idea of what to do with it when the whole mask wearing came up for us in Colorado several days ago (or maybe it was weeks….I've lost track). That's when I cried. Standing on my little front porch, talking to my kids while they were in their car, wearing my stupid black sweater (my shirt didn't even have salsa on it either…) and I couldn't hold it in any longer. The first reaction to a cry, at least in my family, is to intervene with a hug so I know this had to be difficult for them as well as no one could do anything. Added to that, there was the most adorable baby in the backseat that I couldn't even take out of her car seat and hug or even just grab onto one of her sweet chubby thighs. It's a very huge thing that is missing when we all need to comfort each other. I'm so touched that this little piece of fabric that came from a street vendor in Ho, Ghana, will now offer another layer of protection when I venture outside of my house. I desperately needed to hug and be hugged before they left, but that's not possible and that's why I've put this rambling first because it is the most difficult part of this journey for me… the loss of physical contact.
I came inside after they left and ate 3 pieces of cinnamon toast, something I've not had since I don't know when, and decided to call it dinner. I know. I'm shaking my head too. It was only my 2nd feeding fail (ok, possibly 3rd…) in a month. I'm calling that a solid B/B-. That "feeding fail" was called self-care. I then proceeded to watch 2 hours of a series on Hulu that was mediocre but had nice shots of Brooklyn and Manhattan. That is also called self-care and is found in the "mindless" category. Also important. I keep check of that kind of behavior though as it can be a slippery slope for me. Self care, yes. Digging myself into a hole and getting so comfortable that I start hauling furniture down there, no.
This has absolutely nothing whatsoever to do with coronavirus and self-quarantining, but it is seasonally relevant and so I'm adding it….
From the time I was born and my sister, Robin, was one, and up until we started having strong opinions about what we wore, our Grandma would sew our Easter ensembles. And ensembles they were. Once Susan was born, 4 years after me, she joined in and the 3 of us would either be in identitcal dresses or dresses of the same pattern but different colors. Dresses, light spring coats and the all important hats, purses and gloves (that were purchased "ready made") made up the look for us every single Easter morning. Our family would make the 45 minute drive from Olathe, Kansas to Pleasant Hill, Missouri where my grandparents lived. We would park our car at their house then walk the short 2 blocks to their church. Without exception, Grandma would forget something and would have to go back to the house, sending our parents ahead. This would always have us arriving late enough that the pews would already be filled when she would escort her three little Easter- themed granddaughters down the aisle to the front row, where Mom and Dad would be holding our place. Our Papa was in the choir, seated at the front of the church, and I assumed that's why Grandma wanted to sit in the front row, but I wonder now if there wasn't more to that front row seating choice as it allowed her a much longer distance to parade us down the center aisle of a filled church, our pastel-colored outfits in full view for EVERYONE to enjoy. Mom was the one who figured out the consistent timing of our entrance and the opportunity it gave Grandma to show off her girls in their Easter finery and given that it happened every single year, I think she was right. I can't blame Grandma, though. She put a lot of work into those little outfits and she was proud to show off the fruits of her labor. She loved her "gally girls" unconditionally and there wasn't one person in the Pleasant Hill Baptist Church that didn't know that.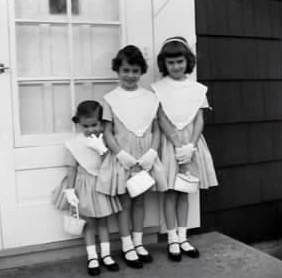 Back to coronavirus….
My sister, Susan, reminded me that during our early days of our quarantine, our lists were long and unrealistic. The sky was our limit and we had nothing but time. Our lists were held together with optimism and enthusiasm. I was going to take classes online, write letters, send cards, reorganize my home (OK, I did that…), learn how to play the guitar, dig deeper into my Spanish, knit something, knit something else, learn how to bake bread that doesn't have bananas in it, read every unread book on my shelves, and put a checkmark next to ever one of those items that were on the never-ending "when I have the time" list. I've settled in. We've all settled in. The foot is off the accelerator and the car is now idling, but at least it's still running That's not to say I'm not accomplishing anything, but I'm just not going at the pace I started with, even with the blog posts. They've taken on the same energy as my days… loose, rambling and far more free-form than my original coronavirus post and honestly, more enjoyable for me to write as feelings have taken over facts. They have become a reflection of my energy. Waxing and waning, with an emphasis on the waning. My days run the gamut from productive and energetic to days that feel like I'm operating in slow motion. Getting outside and walking as much as I can really does keep the energy up. Sitting in the comfy chair in my front room listening to Philip Glass, not so much, but both are equally important now.
Last night was the first night since this quarantine began that I haven't had a sound, sleep through the night, sleep. I was awakened by a howling sound. It took me a moment to realize that I was hearing wolves howl and given that there was a full moon, I made the obvious conclusion. Well, come to find out, via google, wolves do not howl at the moon, but rather, they howl as a territorial warning to other packs of nearby wolves. The phrase "howling at the moon" literally means "you are wasting time and energy trying to do something that is impossible or trying to get something you can not have." Well that makes sense. They are howling what I/we are feeling during a time of trying to get something we cannot have, at least not yet. My impromptu research on wolves and reporting my findings in my coronavirus post is a confirmation of my sister's earlier comment that my blog is reflecting my life right now….looser, more free form and a lot more "rambling-ish" today than it was initially. I'm even making up words.
Last night, before the howling, I drove by to see what the "Alice in Wonderland" house looked like in the dark and it was subtle, yet striking at the same time, but what really stood out to me was my short drive over. There were many houses in my neighborhood and the surrounding neighborhoods that have put their Christmas lights back on the house and are lighting them up at night. I also realized that it was the first time I had ventured out of my house at night in over a month and how very strange that felt. Many of the Christmas lights downtown, that are turned off the end of January, are also back on. The message of hope and we're in this together brought tears to my eyes. This town feels like a big hug to me right now. On a side note, I could count the cars I passed on one hand! I saw skateboarders taking advantage of the empty streets and were enjoying a ride down one of the main streets in town, because they could. It felt like I was driving into a movie set.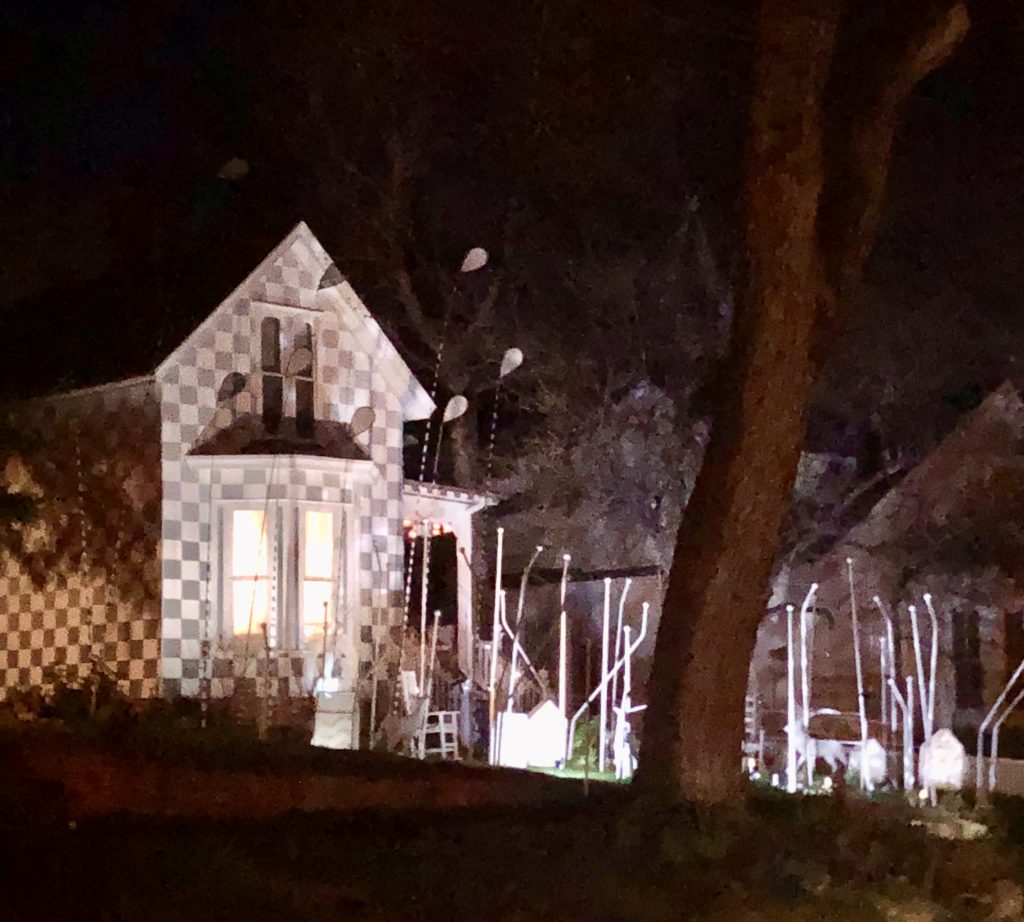 I'm a very visual person. I learned a long time ago that in order for me to thoroughly understand something, I have to see it and not just hear it which has made my morning FaceTime routine with Susan an absolute delight. I can see what she's wearing, "Oh is that a new sweater?" Or what she's cooking, "Show me what's in that pot you're stirring" and I can return the favor, "See? It really IS 14 inches of snow!" Sometimes the conversations are deep and thoughtful and other times…. well, I'll let you decide. This morning, I learned that in Susan's 4-H beginning sewing class they (or I should correct that to "she" as she was the lone participant) made wrist pincushions as a beginning sewing project. Either the leader had no stuffing OR because she had just gotten her haircut, hair was used as the filler to the cushions. Honest to Pete, human hair filling that little cushion that held the pins on your wrist with a piece of elastic. Human hair! And this was the first time I had ever heard the story! I didn't ask her if she still had that human hair pin vessel but after ruminating on it for 24 hours, I will. Going deep and going long on the family history stories. It could possibly be a silver lining, at least for me.
I talk to my parents daily, who reside in independent living at a retirement facility. They are feeling safe, secure and happy these days, thankfully, and have a director who is excelling in keeping everyone in that mindset. Dad told me that there are several couples that have been separated (before the pandemic) because one of them had to move to the memory care unit. Normally, the person who remained in independent living would go visit as often as they wished, but now, given the lock-down situation, they are no longer allowed to visit their spouse on a different floor. Instead, they write letters. Letters to their loved one, in the same building but a different floor. Stories like these tug at my heart. Many who live at Mom and Dad's retirement home are veterans from World War II, the Korean War or Vietnam and I've got to wonder if there was a time they were writing letters back and forth to the same people during those absences as well.
A friend of mine from school who has been following my blog told me her husband found inspiration for his Easter sermon in one of my posts (he's a minister) and so on Easter morning, I tuned into his sermon from Indiana, and listened from my kitchen table in Colorado. I was so touched by his mention of my words and the inspiration he found with the simple caption of "Empty" beneath one of my photos. You really never know who or what is going to show up and give you what you need. Thank you, Jan and Mark Holland. After listening to the sermon, I sat at my kitchen island (now an impromptu art studio) and painted, alternating between rock and roll favorites and Philip Glass in the background, while watching the snow pile up outside, ending up with over 8 inches. I later took a short walk around the neighborhood, ghostly quiet and hauntingly beautiful as the snow continued to fall. It's eerie to see the streets so empty and quiet, yet at the same time, it gives me a real sense of calm. Maybe it was the snow piling up outside, or the many memories I have of Easters past at my grandparents, that made it such a soul tugging, inspiring and creative day for me. When the song, "Just For a Moment, Let's Be Still," (by The Head and the Heart) came on, the words struck me as if I was hearing them for the first time even though it's a constant on one of my playlists. The gift of insight that comes with stillness is immeasurable.
"The world's just spinning
A little too fast
if things don't slow down soon
we might not last.
So just for the moment, let's be still."
These are the words I've been living. The same words I've heard countless times yet heard for the first time on Easter, 2020.
Several years ago, I had a photography teacher to explain to me what he thought was the greatest challenge in capturing the perfect (or better yet, imperfect) image on film. He gave an answer that hovers in the back of my mind every time I pull my camera or phone out to capture a shot.
"With photography, you start with infinity and have to decide what you're going to crop out and what you're going to leave in to give the subject the most impact."
In other words, you're cropping out all of the unnecessary noise. That's exactly what it feels like I've been doing for this past month. Although the feelings of anxiousness, sadness, loneliness and fear have been a part of the fabric of my daily life, I'm finding that the moments that fill my soul and energize my creativity are just as prevalent. I've cropped out the noise and have brought what's important into focus. I'm hopeful that once this has all passed, I'll be able to keep my focus on what really matters and let the rest go and that I'll remember not only the words I wrote but the feelings that inspired the words.
Month one. In the books.
Stay safe. Stay home.