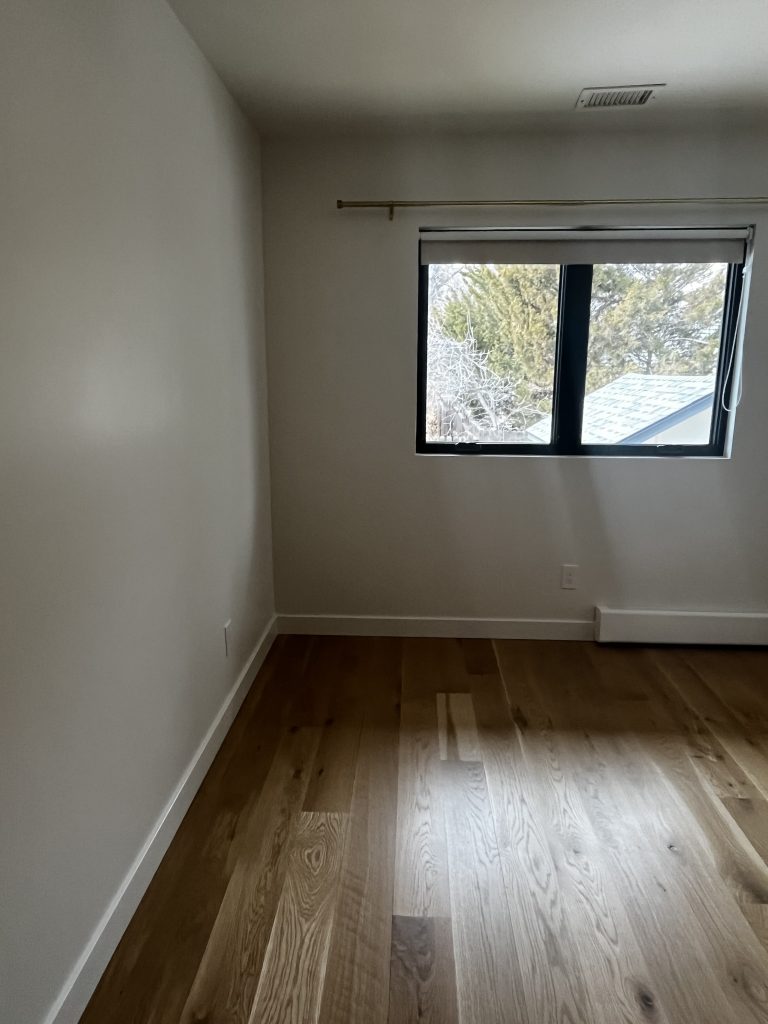 There's a saying about not being able to go back or return home or something along those lines — my own interpretation being when you go back, you can't expect it to be the same experience. I confirmed that a few days ago when I walked over to my son and daughter-in-law's house. It's
still their house, but they no longer live there. They live in Portland now, not Boulder. My son, Thomas, told me there was going to be an open house for their home that is now on the market and he thought I might want to go have a look. Might? Does he know me at all? Open houses are the non-creepy, socially acceptable way to snoop and given that I know the owners, I didn't hesitate. In fact, I was the first on there upon opening, promptly at 11:00 am.
As I approached their driveway, noting the unfamiliar car in the drive, I stopped for a moment to take it all in. My main reason for going had been curiosity about the staging. It's always fun to see what is brought into a home when selling, not living, is the objective. But standing there in the driveway, I realized that this peek into their newly staged house was going to be more about the memories shared inside of these four walls and less about decor. I took a deep breath, walked over to the front door, hesitated, then opened it and stepped into the entry way. Once in, I wondered, are you supposed to ring the doorbell for an open house? Two realtors, a man and a woman who I later learned were twins, greeted me, asked if I was looking to buy then began to talk about what a wonderful house it was. I quickly redirected their enthusiasm and told them who I was and why I had come, adding that what I had seen so far looked great and I'd report back to my son.
The man, was sitting in Lilah's spot. He looked too big to be seated where she was supposed to be. We talked about real estate trends, house prices and what a find it was to have a lot as big as theirs in that neighborhood. I'm good at small talk but don't enjoy it so diverted the conversation to the night they saw a bear walk across their deck which prompted Thomas to start writing down all the animals he had seen in their back yard. Had it been a bingo game, he would have almost had a black out. He was missing the moose. They thought it best not to share that with prospective buyers. I agreed. I had established enough of a relationship with the twins that I felt comfortable taking as much time as I needed to make my way room by room, through the house. First impressions were that the house looked amazing, but odd. It wasn't the house I was familiar with, yet it was.
A rectangular table replaced the round table that Brooke and Thomas had. We shared a lot around that round table and I know the memories will continue at that same table in Portland. So many dinners and celebrations came to mind —the birthday parties for Lilah, the first one postponed because she got sick and coincidently, it was the day after we were told that quarantines would be starting and we should prepare by buying enough food to last at least two weeks. Little did we know. On her 2nd birthday, we got over a foot of snow and Thomas had to give me a ride to their house because even for this snow-loving girl, it was too much for me to maneuver. And her 3rd bday, the butterfly-themed birthday, was shortly after Thomas and Brooke told me they had decided to move back to Portland. With the news still feeling like an open wound, I gave Lilah a tee-shirt with a picture of the Flatirons on it and BOULDER COLORADO in bold letters.. I didn't want her to forget. I thought about the two Thanksgiving dinners I had at that table — the first when Brooke was newly pregnant with her second and was so tired but she made a beautiful dinner in spite of that early pregnancy exhaustion and the 2nd this past year, which was the best Thanksgiving dinner I've ever eaten. I marveled at how she did it given she had a 3 year-old and a 4 month-old. Even the butter was freshly "churned." I thought about our New Year Eve celebration in 2020, held late afternoon in their kitchen. My daughter Emery, son-in-law, Miles and two grandkids, Arlo and Muna, were also a part of the celebration. We tried hard to make it festive at a time when nothing felt very festive. We raised glasses of champagne and toasted to a covid-free year ahead. Our celebration was wrapped up by 7:00.
I walked around to the slider door in the kitchen, the one that Thomas was constantly repairing with reminders to his toddler not to slide the screen door and not PUSH it to open. looked out on the same deck where a short time ago looked warm and homey with an outdoor couch, a rug, a coffee table and a hanging rattan chair along with multiple baskets filled with toys and stuffed animals. It was empty and barren now — no furniture, no toys, no baby or one year old or talkative 2 or 3 year-old Lilah. It would be a blank slate for the next family to fashion as their own. If the weather was nice, and it usually was, we always ate outside on the long wooden table with benches that sat under a large tree that the deck had been built around. On the other side of the deck, the first spring they lived there, Brooke planted a sunflower house for Lilah. By mid-summer, the heads of the flowers bent towards the middle, their stems not strong enough to hold them upright. It formed the perfect little house for Lilah. This was the same yard where Thomas started finding 4 leaf clovers almost daily and even a few 5 and 6 leaf clovers. I found two. The only two I've ever found in my life.
I walked back into the kitchen and around to the front room where I had entered and am sure in real estate terms, it is referred to as a "formal living room" and not a front room, but I prefer "front room." Two white upholstered chairs that I would be proud to own, sat where their couch had been. That missing couch was where I stayed for 3 days after having a minor procedure on my knee of stem cell injections. It wasn't as minor as I had anticipated and the pain, that I was told wouldn't really be much of an issue, was. I planned on being driven home and spending the first night on my own couch, knowing that I wouldn't be able to navigate the 18 steps up to my room, but given the amount of pain I was in, and my inability to walk, Thomas and Brooke insisted I stay with them, which I did, without argument. I remember Thomas and Emery helping me out of the car and into that front room, one under each arm, and depositing me onto the couch that Brooke had made up as a bed for me. It was where I lived for the next 3 days. The next day, I got out the crutches out that Thomas had bought for me and with great determination and focus, hobbled over to the bathroom, which wasn't far, but when you've never used crutches and were told to not put any weight on the leg they had injected, it might as well have been down the street and around the corner. Lilah, not quite three, saw me carefully making my way across the front room, while awkwardly maneuvering the crutches. Realizing I had an audience, I tried hard not to wince in pain and keep my swearing to in my mind only. She watched me with the pride of a mom watching her toddler take their first step.
"Well look at you!!" She said to me proudly, with hands on hips and a big smile on her face.
It's still one of my favorite lines I've ever heard from her and there have been many! Thomas would later tell me that when she came home from preschool on the day I went home, she told him that the couch was a bed with Laudie in it in the morning but now it was just an old couch again. That couch that once served as my bed, now resides in Portland. I hope taking it out of context won't take those few days out of her memory.
As I slowly made my way through the house, room by room, mentally pushing aside the new furnishings and letting my memories guide me, I was surprised by the memories that stopped me in my tracks. Of course there were the birthdays and holidays and getting to see Thomas and Brooke's second child come into their house for the first time, but it was the small things, the very small things that grabbed me. I remember sitting in a tiny chair at the child-sized table in Lilah's play area, brushing the hair of one of her dolls, her name escapes me, but it was probably Sophia, because most of her her dolls were named Sophia at that time. Her hair looked like yarn that had been brushed – dull and fuzzy. Lilah gave her to me along with a brush and asked it I could "make her hair pretty." I gave it my best shot, but even after brushing poor Sophia's hair, it still looked like a matted dog. She took the doll, shook her head with the understanding that the hair wasn't going to get better no matter how much it was brushed, then added,
"I think it will work best for Sophia to always wear a hat."
Out of the mouths of babes. And Sophia is never without her hat.
We watched football games, basketball games, world cup soccer, old home videos and Biden's acceptance speech in the same room I was standing in but there was no big, comfy couch or scatterings of stuffed animals and books or two cats — both the shy one that only came out to play at night and the playful one, or even a TV for that matter. It was just a family room with a lovely fireplace and beautiful natural light. We had big plans to have a regular movie night and watched "One Flew Over the Cuckoo's Nest" for the kick off to our great idea. We still haven't had our second movie watch. Maybe we just haven't decided what to watch. Maybe in Portland.
After passing the twin realtors, still perched on the island stools with untouched plates of bakery cookies and bottled waters patiently behind them on the island, I went upstairs, and paused at the empty wall in front of me in the landing. A short three weeks ago, this wall had been a gallery of family photos. I remember the thrill I felt the first time I saw a photo of me in that gallery. It was a photo Thomas had taken years several years earlier at a restaurant in Kansas City while waiting for our order. When he gave me a copy of the photo a few weeks later, I told him I thought it was the best photo any one had taken of me in recent years. I liked it because I thought it looked like the the way I think I look, not to others, but to myself.
The guest room and Lilah's room's were empty — easier for me when I didn't have to push back the unfamiliar furnishings to get to the memories. I thought about the two consecutive nights that I was called in the middle of the night when Brooke had gone into labor. The first night was a false alarm and I left before Lilah work up in the morning. I later told her I had spent the night at her house and had driven over in my pj's. She loved that — her Laudie getting in her car and driving in her pj's.
"Did you wear your slippers too, Laudie?" She wanted to know.
"Of course I did! Shoes would have looked strange with my pj's."
The second night was not a false alarm and in the wee hours of the morning, I received Thomas's text that Ozma Rose had arrived. The thrill! — seeing those words pop up on my phone through the blue halo of light in the dark room. I quickly texted back then went back to sleep, or at least tried. I couldn't wait for Lilah to wake up so I could tell her she had a sister. Impatient with the wait, I tiptoed into her room around 7:00 and made enough noice to "accidentally" wake her up. She was so excited and went straight to her closet to find a dress to wear (not her normal choice in clothing) because she wanted to look "extra nice" when she met her baby sister. We ate breakfast then took a walk around the neighborhood and when we saw a white car turning into the cul-de-sac from a distance, we thought it was Thomas and Brooke and baby Ozma so we picked up our pace only to find out as we got closer that it was the wrong car. Lilah looked at me and shook her head and said,
"Oh Laudie, we were just a couple of kiddos chasing the wrong car, weren't we?"
It would become our inside joke and something we'd randomly say to each other periodically to share a laugh. It had been a while since I'd been called a kiddo. A few hours later, I'd be laying next to her while she laid next to her mom and her baby sister, watching her marvel at how tiny her baby sister was and how excited she was. The staged bed was nice — a linen duvet with colorful, bohemian pillows lined up neatly across the head of the bed, not too many either, which seems to be a popular trend. I thought about warehouses of home furnishing and how fun it would be wandering up and down the aisles selecting items to tie in with an overall theme. Surely the decorator doesn't have to go from shop to shop to obtain the goods. On second thought, it wouldn't be fun. The impermanence of it all would make me sad. Still, nice duvet. Nice pillows.
Before I went downstairs, I returned to the empty room that used to be Lilah's. I lingered in the doorway, long enough that I decided to get comfortable. I sat down on the floor, stretched my legs out and leaned against the wall. I looked at the empty space to the left of the window — where there used to be a bed with pastel bedding and a line up of very loved stuffed animals on the pillow. I felt the lump in my throat then the tears on my cheeks. Out of all the rooms, this one felt the most difficult for me to leave. I stayed until it felt like it was time to leave then quietly said, "Just a couple of kiddos, chasing the wrong car." In the quiet of the empty room and from the bed that didn't exist, I heard her respond with a soft laugh.
I thanked the realtors, took the blue cloth booties off my shoes and returned them to the basket by the door. I opened the door and hesitated. It was quiet. There was usually a tinkle of a bell that would sound when the door was moved, a good idea, I thought when there's a toddler living in your house. I had become so used to it that I didn't hear it any more, but in its absence, I heard the quiet.
As I walked away, I looked back at the large picture window in the front of the house with the sheer drapes that framed it on either side, and saw Lilah in my memories peeking out from the sheers, watching as my car would pull into the driveway. I would always wonder how long she had been waiting for me. There is no better entrance than one made with such a captive audience inside.
There was no white car in the drive and no tiny bike with training wheels parked next to the garage door. The house had been stripped of those who had lived there before, yet the memories were so strong that I had to wonder — how long will the energy of my family remain in this house even though their physical things have been removed?
I walked home, realizing I would never be in that house again, but it was OK and I was OK. I've done this before, with all of my children — helping with moves that have involved 6 different states, 8 different cities, with multiple locations in each. Several years ago, in a Mother's Day blog, I talked about umbilical cords and although it was cut after birth, its essence lives on in the souls of the mothers. I mentally went through the list of the many cities and states where I've moved boxes into trucks, out of trucks and into houses and apartments. I stopped at 14, but not because I was done. The essence of the umbilical cords of my 3 children are strong and stretchy. They have been well exercised over the years.
Although practice may help with efficiency, it does not make the process easier emotionally. Add a very sweet 3 year-old to the mix who calls me "Laudie," and it becomes even more difficult.
They don't live here any more.
It's still raw and my emotions feel wobbly and too close to the surface. It will take me a while before I remember that they really don't live here any more. The day will come though and instead of grabbing my phone to call Thomas with pleas for his help with something that needs moved or fixed or constructed, or Brooke to set up a play date, I'll get out my calendar and will look at airline schedules. In time.