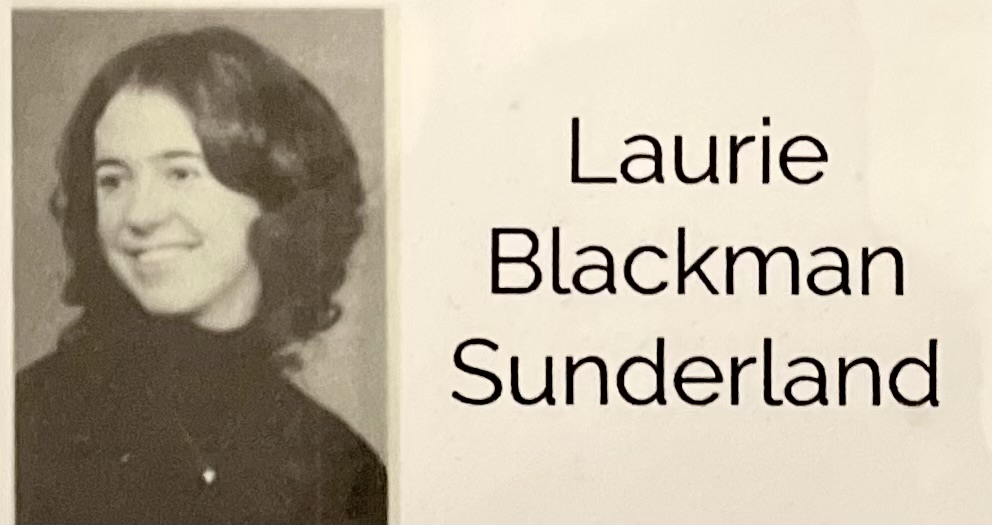 I'm several days out from my 50th high school reunion, which means I'm still in the energetic flow of conversations I had, faces I tried to remember and hugs that took me back to times when the self that I am now was still forming. I have to grab my words before the event loses its sense of urgency and life returns to my present day normal.
Spending two evenings in a roomful of people who are the same age as me and share many of the same memories, some dating back to elementary school, is powerful and becomes even more so with time. With the exception of my siblings, my cousins and my parents, there are no other people in my life that can say they "knew me when…" and that alone gives this group of 65 or 70 people a weighty connection. Some I only talk to at reunions and others, when I see them, I'm reminded of how lucky we are that our friendships are still holding strong after more than five decades. We are not the same people we were five decades ago when we walked across the floor of our overly packed high school gym in steel blue gowns and mortar boards to receive our diplomas, but those teenagers still live quietly inside of all of us. For many of us, it's the only age we are remembered by in this group of people.
So many of the people I surrounded myself with on Friday and Saturday night hold parts of my memories that I have forgotten. They were witnesses to parts of my life that I sometimes wonder if I'm remembering correctly or if they even happened at all. They can give me clarity — where I was, who I was with and did I look happy? They are still able to confirm my presence at the party, the dance, the sleep over or waiting tables at Denny's. They can also tell me that I wasn't there, even though I wanted to be, so much so that my memories may have penciled me in, because I was grounded or had family obligations. Sadly, the grounding happened on a pretty regular basis in my later years of high school. I didn't do well with rules. I also didn't do well with being grounded and devised my own escape routes, but that's another story for another time.
Four of us, from four different parts of the country, all stayed with Terri and her husband, Lawson, at their beautiful farm house in the suburbs of Kansas City for the weekend. Mornings drinking coffee in our pajamas at her kitchen island, quickly rolled into afternoons, still talking, still with more stories from so many years ago. We are five women who have been friends for over 55 years. It's a gift that grows in value with each passing year. As I sat in that kitchen rehashing not only the night before, but decades ago, there were moments that I looked around the room and we were 16, not 68. Time disappeared.
For the Saturday night event, we had name tags that had our senior picture on them next to our name. Even without the reading glasses (that most of us needed), it was easier to steal a glance at a photo than try to read a name. At the Friday night event, we only had name tags that we filled out and attached, although not everyone complied, which meant for some awkward comments of "of course I remember you" when of course I didn't. It felt like an appropriate time to lie.
I saw a classmate who I easily recognized even though I hadn't seen him since the last reunion 10 years ago. I approached him, called out his name and came in for the hug. He responded appropriately then discretely began to move his head to the side like he was looking for something — the something being the rectangular white badge I had affixed to my shirt with my name written on it in bold black ink.
" You don't know who I am, do you?" I asked him.
When he was close enough to read my name tag he said my name out-loud with surprise and gave me a big hug. There was more grace in not remembering or recognizing classmates at the 50 year reunion than at past reunions. After all, 50 years is a long time and very few of us looked like we did in high school. I had brown hair at the last reunion for starters. There were a few who hadn't changed, or aged it seemed, but unfortunately, I didn't have time to ask those few exceptions about their skin care regimens during our brief time together. Time was short. Too short.
These people, some of them friends since my early grade school days, hold parts of the stories I've lost and I do the same for them. For the most part, none of it matters as it's been such a long time, but to have a touchstone to my past that is as real as the person in front of me is a gift of time that I cherish and the reason I've made it to every reunion so far. I came close to almost missing this reunion though and was still on the fence four days before the Friday night event. I would only be one month out from a total knee replacement the weekend the reunion was scheduled. When I told my doctor I was hoping to go to my reunion at four weeks out, and make the nine hour drive as I knew it would be too soon to fly due to the risk of blood clots, he was apprehensive. He gave me one of those "let's wait and see" answers, which I learned growing up usually meant no. He doesn't know me though or how hard I will work towards a goal of something I want. I had an appointment the Tuesday before the reunion weekend and he told me he was amazed with my determination and setting my sights on my 50th reunion had worked. He said it was a go, told me to have fun and not forget to elevate and ice when I had the chance. As he was leaving the room, he turned around and asked me how many years on the reunion. I proudly told him 50, then realized how old that sounded. 50 is a big number and even bigger when talking reunions. We're past middle age, but not ready to claim "old" or "elderly," which is more in line with my parents. We don't know what to call ourselves.
I'm home now, after taking two days to make the nine hour drive, to make the journey a little easier on my knee. I'm usually a barrel through, eat in the car kind of road tripper (ask anyone who has ridden right seat with me), but this time I was forced to slow down and stop every hour and a half to walk around. Given that it was pouring rain for most of the journey, a lot of those walks were through truck stops, the bigger the better. I was wandering up and down the aisles with shelves lined with camo gear for so long that one of the employees asked me if he could help me find something. I told him no. I was just browsing. I looked suspicious. Who browses up and down each aisle for 15 minutes in the hunting section of a truck stop?
My house that is almost always quiet, seems exceptionally quiet now. Unlike the two nights I spent staying up until after 1:00, I was tucked in by 8:00 on the night I got home. Granted, it was 9:00 central time, but it was still early. I was exhausted and my knee was not happy with me. I apologized to Rhoda (my new knee) and reassured her I'd be more mindful of her care once home.
I miss my high school friends. There is a fragility that lingers long past the goodbyes while wondering what the next 10 years will bring. Or are we at the point, given that we're 68 years old, that the space between reunions should be shortened? The poster with the 60 plus names of classmates who had passed was hard to look at and hard for me to take my eyes off of. We are all the same age. I'm sure I wasn't the only one who wondered who in that room Saturday night would be added to the list of names on the poster the next reunion. Reunions are a rare visual of the passage of time and it seems like the accelerator pedal is being pushed a little harder than I'm comfortable with.
When I was 14, Terri, who was hosting me all weekend, gave me a journal. It was larger than the typical journal with 8×10 pages and a black cover with gold embossed trim. It was by far the fanciest journal I owned or had ever seen for that matter. On the inside cover she wrote, "Blank pages await your inspiration." I remember being very moved by her gesture. She knew I wrote and I'm sure I shared some of my work with her (bad poetry that makes me cringe), but it was her seeing and acknowledging something inside of me that had begun to percolate, that was so touching. I filled every page of the journal that resides in a trunk packed to the brim with other notebooks and journals filled with essays and letters. When people talk about what they'd grab in a fire, I think of myself hoisting the large trunk down 28 steps, hopefully with a knee that is stronger than it is today. Before I left on Sunday, she gave me a journal she bought for me a while ago but had forgotten to give to me. Just like the one she gave me 50 plus years ago, this one will also be filled in time. It is just one of the countless threads of connection I was reminded of throughout the weekend. Threads that have woven themselves into my beautiful tapestry of life, one memory and one row at a time. I added a few rows to that tapestry this past weekend. The colors may not be as bold as they were 50 years ago and you may have to move in closer to see the true beauty, but it's still there in all of its glory. Row after row, memory after memory. "Blank pages await your inspiration" — for living, for writing, for life. I'm still holding onto those words.
To all of my classmates who had a hand in shaping the person I am today and showed up in person so I could hug you and share memories with you, thank you. You are my "I knew you when…" friends and that, holds a lot of weight… more with every passing year.