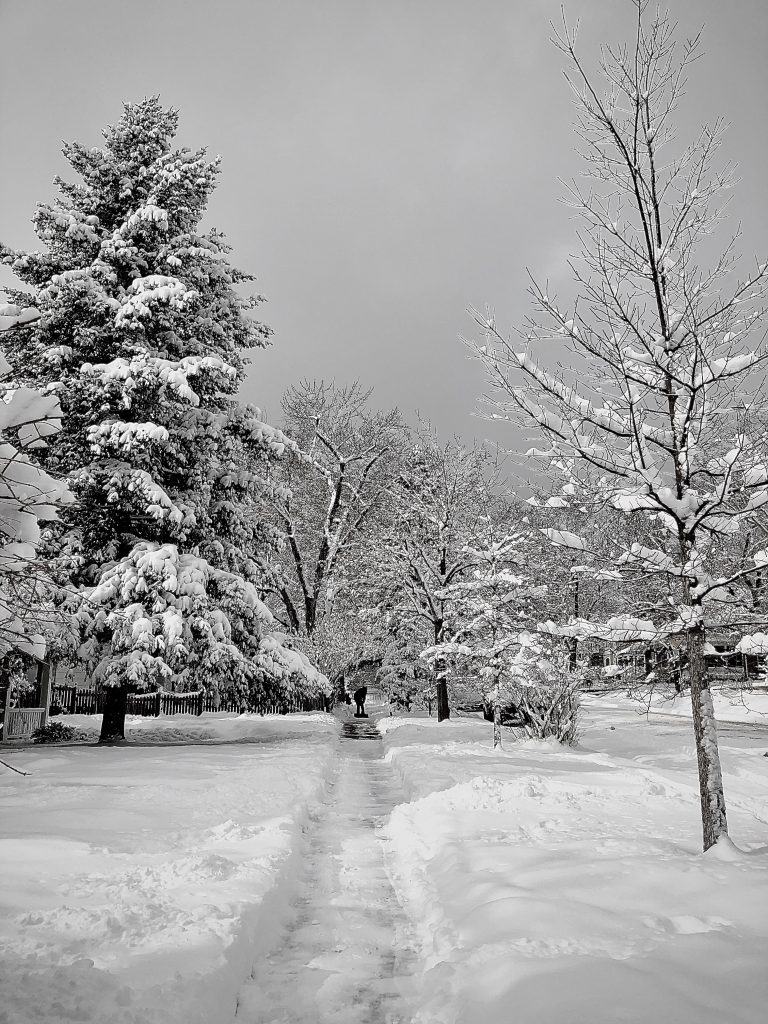 A good spot to meet friends.
A few weeks ago I accepted my neighbor's invitation to a party at his house.  I had no idea that the party would be much more for me than food and drink and meeting new people.  It was the same house,  but different owners, where I had gone to a New Year's Eve party a few months after I moved to Boulder.   I had met Ann while shoveling my front sidewalk, our houses only separated by one house.  She told me she was shoveling our neighbor's walk also, something that the first on up did given that the distance between the houses is so short.  A few weeks later there was an invitation in my mailbox for her and her husband, Robert's New Year's Eve party. She told me it was an annual event in the neighborhood and because her husband was Scottish, they rang in the New Year at 3:00 pm,  midnight in Scotland.   It was my first invite since my arrival to Boulder and I was thrilled. On December 31, 2019, with the late afternoon sun pouring through the windows,  I raised my glass to the new year, while thinking what a good year it would be.  Even the number seemed lucky — 2020.  Of course little did I know.  Little did anyone know.  
On that New Year's afternoon, I spent a lot of time conversing with a woman who happened to share my love of hiking and had all sorts of trails and trips to share with me. I felt a strong need to seize the moment with this new found, almost friend, and make sure we had a roughed-in plan for a hike in the near future before we parted ways. My behavior reminded me of the summer I rented a condo in the mountains for two months and not knowing a soul went into the bookstore, met the owner and was determined not to leave the store until we had a some semblance of a friendship in the making. The word desperate comes to mind and that afternoon, I was claiming it again. I was at a New Year's Eve party where I only knew one person and wondered what I'd do when the clock struck 3:00 and the kissing began. I started thinking about my exit plan as soon as I arrived. The front door would be the easiest way to sneak out as everyone was gathered in the kitchen at the back of the house. Every time I'd eye the front door, I'd tell myself I had to stay a little longer, at least until we rang in the New Year. I felt like the new kid on the first day of school or the insecure girl at a Junior High dance who felt like a brown shoe amidst a sea of strappy patent leather. My sense of awareness as to my presence and its awkwardness was heightened while I navigated the discomforts of "where should I stand? Am I acting too eager? And is it too soon to reload my plate?" And then I found the woman who liked to hike so parked myself right next to her with determination and a plan. Our conversation ended when the clock struck 3:00 and we all clinked glasses of scotch. I didn't have an invite to hike. I had lost my momentum, but that was OK. I had stayed at the party until the stroke of 3:00 and felt proud of myself for that.
Six months later, while in the throes of covid isolation, the New Year's hostess, Ann, texted me and invited me to dinner. She told me she felt we had just started to get to know each other at the party and she wanted to be sure our friendship continued. She also reassured me that the dinner would be "covid safe" and we'd eat socially distanced and outside. When I arrived, through the alley and not the front door as instructed, I saw two set tables on opposite ends of the covered back porch — one with two settings for her and Robert, and the other with a single setting for me. She told me she cooked our meals in separate cookware and wore a mask the entire time. It was a lovely, yet odd dinner. Except for when we were eating, we left our masks on, only lowering them to sip our wine. Hearing the conversation was difficult not only because of the masks, but because we were seated so far from each other. As I was walking home, two doors down and through the alley, I thought about the effort Ann had put into insuring the dinner was safe. It had to be the most gracious, generous and kind dinner party I had ever been to. A year later, they moved to Winter Park and short of a few texts, we are no longer in touch. The new owners, who have been there for almost two years, were the ones who invited me to their party a few weeks ago. I was flattered by the invitation as I don't know the couple well, short of seeing them pass by my house on walks or texts between us sharing information regarding a fencing company he shared with me. I gladly accepted the invitation, mostly out of curiosity to see the changes, if any, they had made to the house.
When I arrived, the house and porch were crowded with people, most at least ten years younger than me. I only knew Matthew and wasn't even sure which one was his wife. I reminded myself that in all fairness, they both travel internationally for extended amounts of time for their jobs so are gone a lot. As I stood on the porch, that had been set up with chairs placed around the perimeter and a large table of food in the center, I couldn't help but think back to Ann's dinner invitation three years earlier. Although they had made some changes in the back yard, the patio was the same and in my mind I could see the two tables, one set for two and the other, on the opposite side of the porch, set for one. I couldn't help but smile while I stood in the space between the two invisible tables. I took my "covered dish" into the dining room and was hit by another wave of nostalgia. On Dec. 31, 2019, in the middle of the afternoon, I was also setting down a dish to share, while feeling apprehensive and insecure. Had I brought something that everyone would like? What if I had to take a dish home with only one spoonful removed? This time, I was the only one in the room, which gave me the opportunity to stop and remember, without drawing attention. I set my Greek salad down, without concerns of taking a nearly full dish home and looked towards the seating area between the kitchen and the dining room, which looked very similar to the way Ann and Robert had arranged it. Only the furniture was different. I found the spot where I remember standing with an untouched glass of scotch in my hand, trying my hardest, to connect with the woman I had pegged as my future hiking pal. I wanted desperately to leave with a hiking date penciled in on my calendar, or any social engagement for that matter. I had moved to a town where I only knew my daughter, my son-in-law and my grandson, Arlo, who was not yet two, and knew that the biggest part about feeling settled had nothing to do with emptying boxes and filling cupboards. I needed friends and I needed plans on my calendar and that New Year's Eve, I was all in, sacrificing my pride in the process. Of course I had no idea that a short three months later I'd be quarantining alone in my house for six weeks, whether I had made new friends or not. In all my attempts that New Year's Eve to snag a friend, I lost sight of the fact that I already had one, Ann, who would later be the only other person I would see socially during my covid isolation besides my daughter and her family, and only from their car window or the other side of my yard as they delivered groceries.
Shortly after we rang in the new year with the country of Scotland, I found an opportune time to make my exit and collected my dish from the dining room that looked like it had one spoonful removed, possibly two. I quietly made my way out the front door without goodbyes because who wants to be seen carrying an almost full dish home. I walked down the sidewalk, past the house that sits in-between Ann's house and mine and lingered on the sense of pride I was feeling. It wasn't what I expected nor had I snagged a hiking date, but it was good.
A few weeks ago, I had mingled my way through the same kitchen, dining room and porch of the house that was now Matthew's and his wife. I engaged in interesting conversations with people from as close as a few blocks away and as far as New Zealand and Tanzania. I didn't worry about where or how I was standing or if it was too soon for seconds. At midnight, and with a house still filled with people, I gathered up my dish, gave my thanks to Matthew and his wife who I was happy to finally meet, and said my goodbyes. I walked the short distance through the alley to my house carrying my dish, which was empty. Totally empty.
As I walked up the steps to my back porch, I stopped to take it all in. I had felt comfortable enough at my neighbor's party that walking in and only knowing the host hadn't been an issue. I wasn't trying to pencil in hiking dates or get phone numbers for friends I hadn't yet met. None of that mattered this time while I attended a party at the yellow cottage two houses down from me with grapevines that now formed an open weave ceiling over the far end of the back yard. The same house that had a back patio that one night had been arranged with a table and chairs set for two at one end and a table for one at the other.
I had started going to an exercise studio shortly after my arrival to Boulder and a few weeks in, the owner stopped me on my way out and told me she was running a special and I could bring in friends for unlimited free workouts for the next week. I hesitated, not sure how honest I wanted to be, then figured why not and told her thanks, but I didn't have any friends. She looked up at me with deep concern and sensing her discomfort, I quickly added, "well, not yet!" I realized while walking out to my car that I had shown a vulnerability not only to the studio owner, but also to myself. When, if ever, in my life had I uttered the words… "I don't have any friends" (locally, and at the present time, I'd later clarify). And who was this person who was showing such vulnerability at the risk of her pride? Is this what new beginnings, if you you're honest, really and truly look like?
Four years is a long time and it's also the blink of an eye. I remember the excitement I felt the first time I saw someone I knew at the hardware store and the first time I had to turn down a social engagement because I was already committed. All rungs on the ladder I've been climbing without even realizing it until now, when I feel like I've made it to the roof, which offers both better views and greater perspective. I can look down and see where I started but not where I'll end up, which is the fun part. My earlier urgency to connect has been replaced by a calm, open-minded curiosity with no expectations, and in that process, I have quietly found my way home.