It's a bit early for my Mother's Day post, but this mother and very recently, new grandmother, can wait no longer. This is always my favorite blog post to write because I don't have to search for words or experiences or stories to share as they seem to be just itching to come out and honestly, it is the one post that almost writes itself – directly from the heart.
31 years from the date when I first became a mom, my daughter, Emery,  followed suit and gave birth to her first child.  Besides the miracle of the 7.8 ounce beautiful bundle of boy that she brought into the world that night, it also feels like a bit of a miracle to me that we now share that very special anniversary of our entrance into motherhood and for that reason,  I'm directing this blog post to Emery, in celebration of her first Mother's Day.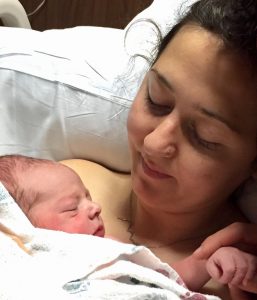 To my beautiful, new Mama, Emery,
Your 7 pound 8.50 ounce beautiful bundle of baby boy not only added "Mom" to your list of names,  but is also the miracle who will change everything in your life –  from who you are to the way you view the world and everything you hold dear.  On this Mother's Day, your very first, take a moment to pause and honor yourself and the amazing journey you have begun.  Although you earned your ranks into this holiday late into the evening on the 30th of April as you rolled 10 hours of labor into another 4 hours of pushing, your real entrance into motherhood began when you found out you were pregnant and I know you know that because of the tremendous care you gave to your growing belly.
I remember my first Mother's Day, 31 years ago, relishing the moment while cradling a 2 week old baby in one hand and a half-poured glass of champagne in the other.  I was a brand spanking new, still wet behind the ears mom, stumbling through unshowered, sleep deprived days in stretched out maternity wear.  As clumsy as my navigating in this new role was, it felt comfortable and right and nearly perfect – almost like I had always been there. Feedings at 1:00 a.m., and 2:00 a.m. and eventually so often throughout the night that the night became day and the day became night became my new normal, but none of that mattered because my life had already surrendered to the sweet face that would look up to me during those feedings.  It was then, in those moments, that all in the world was right and perfect, even if it was 3:00 a.m. and I knew I'd be back in the same rocking chair, yet again, before sunrise.  Those morsels of goodness, I learned, are often hidden in the most tiring, and trying and "oh no, not now"… times of day.   When you understand that, you will understand biggest rewards of parenthood.
I know you well enough to know that you will become a mom who will teach and lead from the heart and baby Arlo will be a better person for that.  I was so determined to be the best mom I could that in those early weeks, I would thumb through stacks of parenting books while I nursed.   Looking back, I wish one of those books I gave so much credence to, would have told me to stop,  put the damn book down and simply savor the moment (but keep it on the shelf and resort to it when debating what next after sending said child to his/her room to think about what he/she had done.  And by the way, that doesn't work.  If your child is anything like his grandma, he will only spend that time thinking about how to do it next time without getting caught).  It took me a few weeks, but I eventually did put the books down and followed my intuitions, which led to many years of fun-loving, make it up as I go along, trust my gut and lead with my heart, parenting.  You're at an advantage.  You are already there.
I can tell you a whole lot of things that will likely happen to you as a new mom because they are somewhat universal, but you soon will come up with your own unique list.  Tears will flow, for no reason or for reasons that absolutely make no sense and you will have a tough time holding them in.   That tear valve seems to open up shortly after you give birth and I'm sorry to say, sweetheart, but it will never close again, but that's OK, because in its opening, you are able to feel life and love deeper than you ever imagined before and that is more than worth some extra tears.  You will wake up more than the baby during your first several days at home, simply to check to see if he is still breathing and will feel relief when you feel his warm gentle breath on your hand. You will feel like an arm or a leg or some other vital part of you is missing if he is not tucked securely in your arms, and that, my dear new mama/daughter, is exactly what being a mom feels like.   Whether your baby is still nestled into your arms, or 857 miles away, you will always remember the feeling of when you first held him in your arms, how whole and complete and absolute perfect that moment was.   You've read my words more than once about my thoughts on the ever attached umbilical cord and even though you and your brothers are full grown adults, I still feel it.  In my case, it has stretched itself across the country to 3 different states ( I think life has given me extensions to the cords I have, simply for ease).  Even though you saw Arlo's daddy cut his cord, believe me, it is still attached and there is some sort of comfort in that.  No doubt you feel it very strongly now, just days after his birth, and I can tell you right now that although that feeling will wane, it will never go away.  Ever.
This day is yours now and in a bittersweet yet joyous moment, I feel like I'm handing over the keys to the car to you and now you're the one that gets to drive.  Make no mistake, I want to insure that there's still room for me to hop on for the ride (I'll ride in the back seat) and enjoy the journey with you, but you're the driver now.  You and Miles.  You may have the keys, but don't think that I'm tossing my mom card on the table with those keys as there's still a whole lot of "sit up straight and eat your vegetables" in me… oh wait, you're the one who tells me that.  Never mind.  But the mothering, my sweet daughter, will always be there for me although it will change and that's OK and as it should be.  No doubt, I will offer opinions, give advice that's not solicited and more times than you care to count, I will tell you how I handled this or that or the other thing and how it was the best idea, the worst idea or it wasn't even worth qualifying, and you can heed those words or ignore them, but know that regardless,  they always will come from the heart.
Once you cross over into the sacred ground of motherhood, everything changes and you realize that you are a part of something that feels far bigger than the labor you went through to get there.  Many have come before you and many will follow and there's a whole lot of "we're all in this together" going on in the process of mothering.  It truly does take a village to raise a child and although you and Miles are his parents, there will be countless souls who will help shape the person he will become.  Even your sweet dogs, Leia and Olive and kitty, Regis, will have their roles.   I'm  speaking not only for myself here, but for so many other moms out there in saying, we've got your back.  Reach out when you need us.
I will always be your mother and you will always be my daughter, but now we're entering into a whole new place given that we both are mothers now and that in and of itself is just about the most beautiful and perfect thing I can think of on this very first Mother's Day for you. Into this gig just a handful of days and already I am marveling at the ease at which you have become a mom.  Your maternal instincts kicked in far before those hormones did with your first labor pains.  And speaking of labor pains… how appropriate of a word if there ever was one.  You labored hard to bring Arlo into the world.  This is the universe's way of saying that this is no easy task that you have ahead of you and because of that, there is no painless entrance into your new role.  It's not easy being a mom, but the 12 hours of raw pain you went through to bring Arlo into the world, is a pain that mothers will line up for two by two, time and time again, because of  the incredible miracle that awaits them on the other side. Your journey will have its share of difficult days but the good ones will by far out number the bad ones.  You will have days that you feel like you are swimming upstream in mud and it will be no easy stroke to maneuver yourself out of the mire, but you'll figure it out and before you begin to physically slump into a human question mark, rest assured, dry land is never out of sight.  Again, the goods outweigh the bads and that I can tell you with 100% certainty.  You'll stumble, you'll fumble, you'll eat a bag of chips with a salsa chaser for breakfast and will call pajamas clothes for more days than you care to admit and to that I say "do it."  And do it again, and again and again,  because you deserve every morsel of not so healthy and every hour of long past time to get out of your jammies.  You're a mom now.  Claim that right with pride.
Life  will change in ways you simply can't predict and your own behaviors  may surprise you.  Case in point:  I wore slippers more than once to the grocery store, and my comment to your "Seriously???" comment was, "At least I didn't wear my bathrobe…"  I scrounged dinners, even with your friends over, out of the door side of the fridge, i.e., condiments, simply because I didn't have another trip to the grocery store in me and what the heck, you were kids, you wouldn't remember.  Please tell me you don't.  I slept in sleeping bags in a closet with your two brothers, both under the age of 3 and tried my best to simulate a campout, while ducking under hangers of clothes, small as they were, but campouts didn't usually have hangered clothes overhead.
I let you skip preschool, multiple times, for field trips to wherever, while we ate cinnamon rolls bigger than our faces in the car, simply because it felt like the better idea.  I walked your 5-year-old self countless times through my gardens, while teaching you the names of the flowering shrubs and perennials, in Latin, because you were curious and wanted to know. We made trips to the goat pen at the petting farm a regular part of our routine, where you would fearlessly walk into the pens and feed them as if they were your own.  Now you live on a farm that has goats.  I can't tell you how much that tugs at my soul to see those seeds of my early parenting with you germinate so beautifully.  THAT is what mothering is all about.
I turned our dining room into a grocery store, a school, a doctors office, a veterinarian's office, a construction sight and a craft station because who wants to risk eating over anything that's not sponge moppable when you have kids under the age of 5, I mean 17, and what we did was more fun anyway than eating in the dining room. I let you kids go deeper into the baking bowels of my kitchen than I ever did with pretend baking with measuring cups, and spoons and flour and sugar and cheap spices making mixes that never amounted to anything because I knew before you started that your interest would wane long before the oven even preheated.  I spent my after you went to bed evenings for 4 months in a closet building a Victorian doll house for you for Christmas but forgot to add the family who lived there so you were hardly impressed on Christmas morning, but I'd make one again in a heartbeat… this time,  family included.
This is the tip of the iceberg of memories, but it doesn't end at childhood.  In later years, when your children are old enough to have their own children, it is possible that when your first grandchild arrives,  you just might show your waiter the lock screen on your phone, which of course will have the first picture of your new family, taken just hours after the birth of said grandchild, this of course before you even order.  You may feel like you have his attention at that point and what you have to show him is far more important than your salmon salad order, which he likely will hear several times during his shift, easy on the dressing and skip the bread.  This really and truly could happen. These are my stories but you'll create countless stories and memories of your own, many out of pure desperation and mothering by the seat of your pants, but it will aways be the love that will stitch them together into memories you will cherish and laugh at and be embarrassed by, but above all, cherish.
You grew up with a mom who often felt like that frazzled, wild haired bus driver in the Magic Schoolbus series, which I greeted at the time with a sigh and a promise to myself to get it right the next time, but now, decades later and without apologies, I realize that the messy, the dirty, the not wearing the right shoes, or shoes at all and letting go of a whole lot of shoulds and coulds just maybe was one of the best gifts I gave you.  Already, just days into your new role as a mom,  I'm seeing some of those seeds germinate and that makes me smile.
I can't end this letter without a big shout out to your partner in life and love, Miles.  His hands on fathering melts my heart.  What a lucky baby Arlo is to have you both as parents.
From one mother to another, I wish you the very best of everything and several consecutive hours of sleep this Mother's day, dear Emery.  Only now that you are a Mom, can you begin to understand how much I love you.
And I do.  So much.
Mom/Laudie