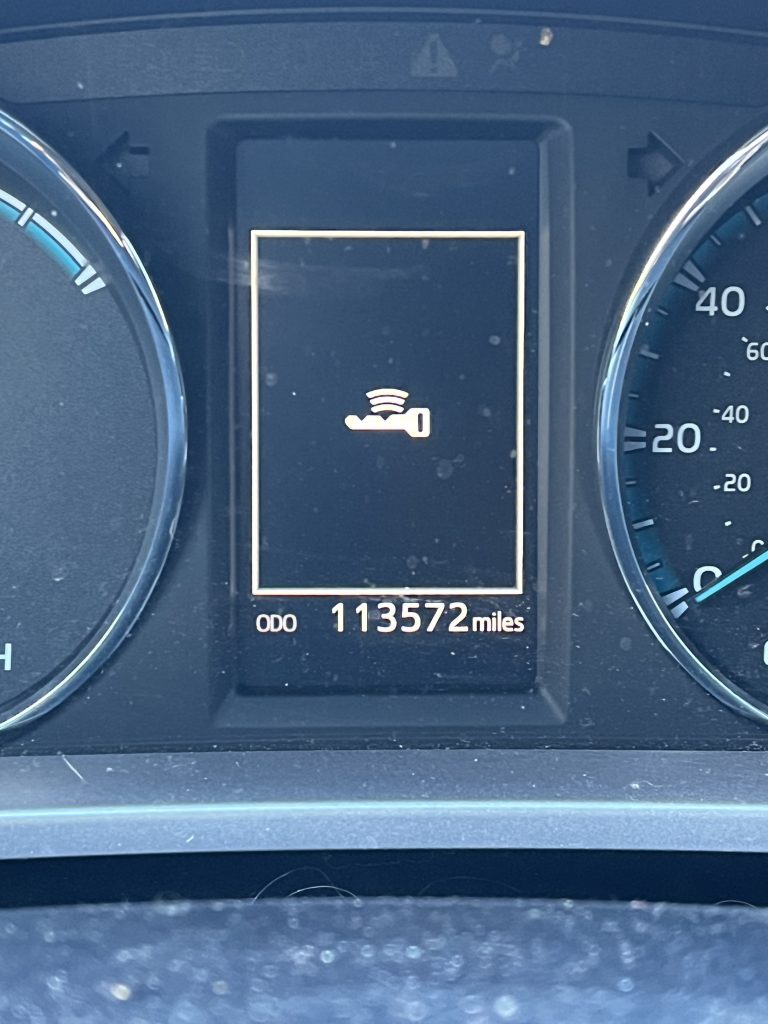 My top odometer reading of any car I've owned. Seeing the 9's turn into 100,000 isn't near as fun on a digital monitor as it is on analog.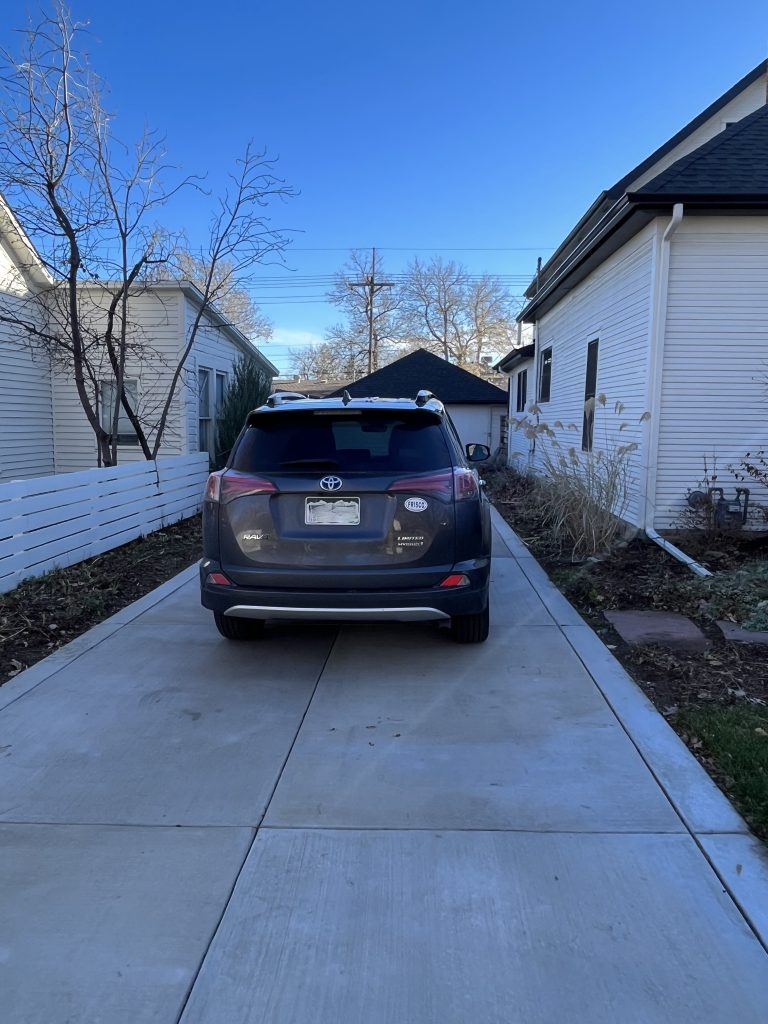 Final photo.
I have never cared much about cars —their make, their model or how many horses are under the hood. I only cared if it started. In my early driving years, my love went as deep as the thoughts I had when I put the key in the ignition, while quietly reciting the mantra, "please oh please oh please, start." If it started, and I'd say the odds were about 70%, I loved the car. If it didn't, I hated the car and would have to think where the nearest pay phone was so I could call Dad to bail me out, which he always did, without fail. If I was at home, it meant scrambling for a ride or going for my last ditch option of calling in sick. That was as far as my caring went for cars went. I didn't have a car when I was in high school, but had friends that did and that worked out fine because I really didn't like to drive and preferred being a passenger over being the driver. I don't remember buying my first car, a VW beetle (1968), but the price tag of $400 comes to mind. This seems like it should have been something I would have remembered, but I don't, proving my point of not caring much about cars.
The first car I do remember purchasing was in 1977 and I remember it because it was my first introduction to financing. It was a light blue '74 super beetle, and yes, adding the "super" to the car's title was significant. It meant it had a dashboard instead of a flat panel where the instruments were located. The back windshield was also larger and the car was two inches longer than a regular beetle – hardly enough to market the extended leg room. It was $1500 and I financed it for two years, with payments of $65.00 a month — an amount that gave me a pit in my stomach.
Dad took me to Olathe Ford to help me find a cheap, safe, used car that I could afford. That meant having to walk past the shiny new Fords with stickers in the windows to get to the not so shiny used cars that were parked a football field away. It was like walking through a department store with beautiful clothing and heading straight out the back door to stacks of old clothes at someone's garage sale. One day, I thought, I'll be able to stop and look at the new cars and maybe even buy one.
When we spotted the '74 VW, I was thrilled. It was an OK color (light blue), wasn't very expensive and was relatively new (three years old) and because it was a VW, it was familiar. I learned how to drive in our family's 2nd car, a white 1964 VW so knew the ins and outs of the car along with the quirks, and with VWs, there were many. It looked perfect and I was ready to flag a salesman over but Dad told me not so fast. He thought he recognized the car as being the same car the vice principal at the high school where he was a guidance counselor had driven. I didn't see the problem. If he knew the previous owner, all the better as he'd have more information as to how well the car had been taken care of and why he had traded it in. He agreed, but it wasn't that simple. Because the vice principal of the school holds the disciplinarian role with the students, they often become the recipient of pranks during the weeks before senior graduation. I still didn't see the problem but Dad thought it would be a good idea to stop by and have a chat with the vice principal, Dr. Burns, to get more information about the car. This was the beauty of growing up in a small town. To stop by someone's house, without invitation or warning, to obtain details on the car he had traded in, was not considered odd or invasive in the least. And so we did just that. We left Olathe Ford and drove the short distance to Dr. Burn's house. He confirmed that yes, the '74 light blue VW had been his and he had taken meticulous care of it since buying it as a new car a few years earlier. However, the car had been lifted up by a group of seniors and returned to its parking spot upside down. When Dr. Burns found his car at the end of the day in the parking spot where he had left it, but upside down, he took it in stride and found a handful of strong boys to return it to its upright position. He said other than that, it was a good car. Somehow that story made the light blue VW even more desirable to me. It had an interesting history that I would be adding to, although I doubted it would become the subject of pranks under my ownership.
I had a lot of history with that car. I loaded her up with all the possessions I could squeeze into its small interior and moved across the country to Phoenix. One of the guys I worked with at King Radio had a luggage rack he said he'd be happy to donate to the cause, which I gladly accepted but only if he'd agree to attach it. I strapped boxes onto the precariously attached rack and realized several miles into my journey that it had been a terrible idea because it slowed my already slow speeds down to a top speed in the low 50's. It also added a background noise of wind whistling through it the entire journey. The car was not turned upside down by students under my ownership, but I did have my share of adventures with her.
I owned that light blue '74 VW for six years, four years after my final monthly payment. The last two years I owned it, I commuted daily to the University of Kansas, 45 minutes from my apartment. Because I dealt with car issues more than once during those two years, my fiancé worried about its reliability and safety and bought me a Subaru. The next week, I sold the VW to the first person who responded to the ad I put in the paper. He gave me $200 less than the $700 I was asking, but I was happy with the $500. I've never been good at negotiating. I did not consult a blue book for pricing but rather based my price of the car on the cost of the wedding dress I had chosen ($500) and added another $200 for a rehearsal dinner dress and shoes for both the rehearsal dinner and the wedding. Later that day, I went to the bridal shop and put twenty five twenty dollar bills on the counter and walked out with my wedding dress. The rehearsal dinner dress and shoes for both, had to wait.
I still don't care about cars, at least not much, but what I realize is that I develop strong attachments to the vehicles I own, maybe in part, because I don't trade them in on a regular basis. We are usually together for at least four years, a long enough time to form bonds. Last week I traded in in my well-worn 2016 Rav 4 with 113,572 miles on it. I owned it for eight years, a personal record for me. I was at the dealership for a routine tire rotation when I purchased the new car. It was an impulse buy. For readers who haven't read earlier blog posts, I once impulse bought a condo when I went into the bookstore in Frisco, Colorado to buy a book. I'm not good at making decisions but am good at impulse buys, which shortens the decision making process to something that doesn't even feel like decision making. I started thinking about a new car in 2020 but was told by my brother, who is in the business, that it wasn't a good time to buy as inventory was low. I assumed things hadn't changed when I went in for routine maintenance and I saw a shiny, bright, white Rav 4 in the parking lot. I have to back up a bit here and share that while I was doing my physical therapy at Boulder Orthopedics, my view from my exercise bike on the 2nd floor, was the Boulder Toyota dealership. I watched new cars come in and go out for test drives. So maybe it wasn't such an impulse buy. Maybe my intentions on a new car had been set while I was working on a full rotation on the pedals with my left leg. The day before Thanksgiving, I ended up driving home from the dealership in a new car and left my old car behind. I couldn't help but wonder if there was someone on an exercise bike in the physical therapy room watching. I'm guessing not.
Before handing over the keys to my car, I told my salesman that I needed a minute to say my goodbyes. He understood, or at least he pretended to understand. I sat inside the car that I had just spent nine hours in the day before when I returned from Kansas City after celebrating my Mom's birthday. I thought back to all of the trips I made in that car. It took me back and forth to Kansas City four times a year for the past four years, except for the one time I flew so I could see the new airport. Filled to capacity, she moved me from Leawood, Kansas to Boulder, Colorado and listened to me sigh and cry all the way to Salina, Kansas then, as if a switch had been turned on, finished the journey with hope and anticipation. A year later, I made the drive to South Egremont, Massachusetts by way of Kansas City because it was fall of 2020 and quarantining had kept me from my sisters. I missed them. I drove through eight states to get to Massachusetts, and with each state line crossed, the Covid protocol changed, from the span of full on masking outside while pumping gas, to mask shaming and denial that Covid was even a thing. She took me to countless trailheads in the Boulder area and my first hiking meet up group where I was reluctant to get out of the car, but eventually decided to put my insecurities aside and go for it — a decision I'm still grateful for. She helped me find my way around my new town, which wasn't nearly as hard as I anticipated and got me back on the mountain roads that I had driven so often during my time in Frisco, Colorado but in the flat lands of Kansas, had lost my edge. I came home from the hospital with a new knee in her (with one of my sisters behind the wheel) and experienced the intense pain of getting in and out of her the first few weeks after surgery. I felt nostalgic and a little sad to tell her goodbye, knowing that several years from now I'll be sitting in the car I had just bought with similar feelings of nostalgia. She's a Toyota, not a Ford, but that day of walking past the new shiny cars with stickers in their windows some 46 years ago, did not go unnoticed.
My last car was never named, but I'm into naming things these days, which started with my new left knee. I named her Loretta. My 4 year-old granddaughter suggested Sparkles or Sprinkles or Cupcake and my 6 year-old grandson was pushing for Bud, but she looked like a Loretta to me. Loretta and Laurie… here we go. Let the road adventures begin.